If you happened to be one of the people who copped Kanye West's Yeezy 750 Boost, an Adidas sneaker that looks like an injured Storm Trooper's Aquasock, prepare to be very annoyed: The Shoe Game points out (via Racked) that Zara's hawking a remarkably similar little shoe, down to "the ridges on the sole to the shape of the shoe, it's obvious."
Kanye's discussed Zara before; in 2013, while explaining then-new song "New Slaves" to BBC radio host Zane Lowe, he namechecked the brand in a discussion about his love for fashion:
"You can have on a Zara pant, right? And a girl walks in with the Celine version, and you feel like shit. That is the problem. I'm talkin' about us, the new slaves, the people who love fashion. I'm talking about us, you know? 'Cause I'm a slave to it. I love it. I love it! I loved it since age five, when my mama brought me to a discount fur spot. She asked me what I like, and everything I liked was too expensive for us."
That same year, in an interview with Power 105, he commended the way chains like Zara and H&M make affordable, stylish clothes in contrast to overly expensive brands like Louis Vuitton:
"And that's one thing that's good– I don't necessarily agree with everything that H&M and Zara does, but one thing that's good about it, is that they were able to break that idea that creativity and all of these things that you really want have to cost like a million dollars."
"The prices are really based on this perception and this idea of luxury that gets sold to you, where you see like a girl laid out on a rock and on the side of the rock, you see like a Gucci ad at the bottom of it. I've realized that the only real luxury is time. That's the only thing that you can't get back and time with your family. People need to understand that true art is the art of life itself," he continued.
G/O Media may get a commission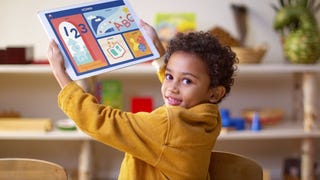 30-Day Free Trial
Homer Learn & Grow Program
Of course, with the launch of Yeezy Season 1, his second fashion line and first with Adidas, that changed; he's now selling thousand-dollar distressed sweatshirts, and the shoe that Zara knocked off initially went for $350—if you could somehow actually get it retail. If you're looking for them on eBay, expect to pay upwards of $2000. Here's a pair in grey—sorry, "Turtle Dove"—for $2900.
So yes, anyone who copped these are potentially going to throw a Kanye-inspired tantrum, although, as basically the streetwear equivalent to a Louis Vuitton logo bag, consumers are buying them more for the name and as a status symbol; it sure ain't cause they look un-stupid.
As Racked notes, this is not the first time Kanye's designs have been knocked off (although Macy's selling an MA-1 style flight jacket is not exactly knocking him off; one could argue Kanye was, in fact, knocking off the United States Air Force). Is it too soon to be nostalgic that no one made affordable dupes of these insanely hideous pumps from the Spring 2012 Kanye West line? In retrospect, and amongst all this pained minimalism he's touting through Yeezy, their audacity is something to appreciate for its own sake. I held them in my hands once, at Collette in Paris—carefully; they cost something like €4000, as I recall—and just one of those shoes weighed the equivalent of a preschool-bound toddler. Oh, Kanye. We'll no doubt be hearing a lengthy response to the Zara knockoff very soon.
---
Contact the author at julianne@jezebel.com.