If ever a novel captured the frenzied feeling of girlhood, with all of its conscious choreography and missteps and pure elegance, it's Zadie Smith's Swing Time. The book traces the friendship of two girls, the unnamed narrator and her best friend, Tracey, from the 1980s through the modern day, jumping back and forth between the past and present. It simultaneously traces the narrator's ill-fated employment with Aimee, an international pop star who closely resembles Madonna.

Swing Time begins with the narrator reflecting on her fall from Aimee's graces and jumps to the past, to the childhood friendship between two girls which comprises its compelling core. Like most young girls, their early friendship isn't built on a long list of common interests, but rather on the power of abstract attraction, that familiar longing simply to be friends that often sparks an enduring connection. Their relationship is forged, however, in the fundamental things that do and will define their lives: both girls are poor and live in public housing in northwest London, both share a love of dance, and both are biracial. "Our shade of brown was exactly the same—as if one piece of tan material had been cut to make us both," the narrator tells us.
Despite these commonalities, the girls have profound differences. Tracey is a uniquely talented dancer; the narrator shares her enthusiasm but has flat feet. Tracey's mother, a white Englishwoman, is indulgent and eagerly wraps her daughter in the hyper-feminine pink and tacky flash that's the cool girl currency of childhood. Tracey's father, meanwhile, is absent; in and out of jail, he haunts Tracey and her mother, but only materializes every few years. In contrast, the narrator's parents are married. Her mother, a Jamaican-born political radical who is desperate to better herself, is the moral arbiter of the family. She disapproves of the rampant materialism of Tracey's mother, committed instead to political causes and education while disdaining the stereotypes of motherhood. Her white father is kind and loving, though ultimately unambitious. He sits through dance lessons, offers encouraging smiles and endless support. These fine differences both of race and class, that are inscrutable in childhood, are ultimately what will drive a wedge between the two girls.
Teasing out these subtle differences, rendering them with a detailed elegance, is where Zadie Smith is at her best. In five novels, Smith has consistently demonstrated that she is one of the most perceptive authors of women's relationships. The tensions and joys of mothers and daughters and of female friendship are the lifeblood of Smith's novels and, in Swing Time, these complex relationships take center stage, with the metaphor of dance as the backdrop (the novel's name is taken from a Fred Astaire movie).
Smith has a rare understanding of the psyche of girlhood, that rush of sexuality which is simultaneously exhilarating, frightening and confusing. As with her previous novels White Teeth and On Beauty, Smith embraces emotional conflict, allowing her characters to engage with pains and petty meanness that often seem like the hallmark of adolescence rather than moralize their experiences. In Swing Time, Smith stretches that exploration, using first-person narration to jump back and forth between the past and the present. But the unnamed narrator isn't simply telling a story, rather she tells us that she's writing everything down, so the novel is told almost as a confessional, a writer processing nearly two decades of decisions and their aftermath.
G/O Media may get a commission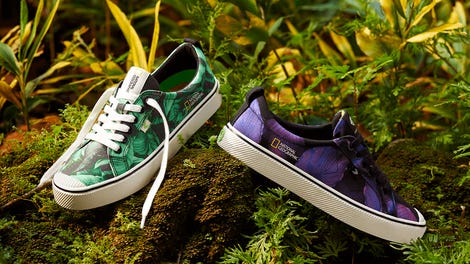 New New New
Cariuma + National Geographic
The brightest moments of Swing Time are when Smith puts race and class under a microscope of the ordinary: at school, on playgrounds, parent-teacher meetings, and birthday parties. In one particularly poignant section, the two girls are invited to a birthday party of a classmate, a middle-class white girl. They arrive dressed in their best and fanciest clothes, while the other girls—like the birthday girl, comfortable and white—wear "dungarees and jolly-looking jumpers," clothes that indicate a casual familiarity with special events. "At once," Smith writes, "Tracey became hostile."
Tracey signifies her hurt by digging into the role expected of the poor, "brown girl," resisting the authority of the overwhelmed middle-class white mother overseeing the party. The scene culminates with Tracey's decision to choreograph a dance to the music of the beloved pop star Aimee—a dance that stars Tracey and the reluctant narrator; a dance that's too suggestive and too sexual to be considered appropriate for ten-year-olds. The narrator's mother is humiliated, the girls are taken home. "I hung my head and wept in the street," the narrator tells us. After that, the girls inevitably grow apart.

The international pop star Aimee becomes the closest thing that Smith offers up as a plot vehicle. As a young woman, the narrator becomes Aimee's assistant, she is compelled to Aimee for precisely the same reason she was attracted to Tracey; Aimee's dance is, she describes, a "undimmed erotic force." Yet Aimee is white and famous, wealthy and entitled and as the narrator hews her identity to the pop star, she slowly becomes undone. There is a subplot here involving Aimee, in the philanthropic stage of a star's life, deciding to build a school for underprivileged girls in Africa. The narrator travels to Togo where she learns an international lesson in comparative privilege.
The Aimee chapters of the book are far less compelling than Smith's exploration of female friendship. For all of Smith's insights on fame, Tracey, the narrator, and the ordinary women who populate Swing Time are far more absorbing than either Aimee or her plotline. In part, because fame is inscrutable—a perpetually abstract concept to most readers—but contempt in familiarity and the intensity of women's relationships are far more recognizable. Smith understands the dance of friendship, what she describes as "this discreet and mysterious exchange of qualities, this exchange of power," better, perhaps, than any novelist working today. Swing Time is the shape of two girls, handled with complexity and empathy.