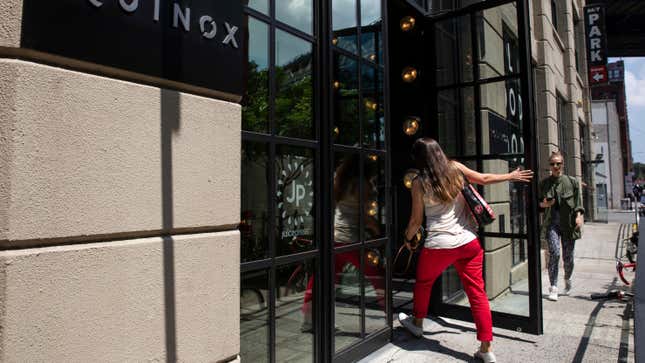 "Discovering something about a company, it's like discovering your boyfriend has been cheating on you for three years," Anne Mahlum, the chief executive of a DC-based fitness chain, told the New York Times last week in a piece about a group of SoulCyclers in a wealthy New York enclave reacting to the news that the billionaire Stephen Ross, who would soon be hosting a $250,000-a-seat lunch for the president, was also an investor in SoulCycle.

While a couple of the people interviewed for the story were very comfortable with their cycling class linking back to the Trump administration ("People should just respect the president," one said), the general response was shock and dismay. "I think they need to get on top of this big time," one customer explained. "I've already paid for a big package of classes, but I'm waiting to see what they do next before I pay for more."
The piece was funny in the way that stories like this often are, since it exposed the contradictions of extreme wealth by simply showing extreme wealth up close. Nothing about Ross's political leanings or his business portfolio was private information, but the revelation still felt like a shock to the system for people who consider themselves liberal but were inadvertently power-cycling to enrich a billionaire Trump supporter.
But it was also, like so much of the reporting that has followed Ross's planned fundraiser, a meta-story about the ways in which the luxury monoculture currently favored by a certain kind of person—modestly or extravagantly affluent, often coastal, often liberal, almost always white—actually displays a political prerogative.
And of course it wasn't just about SoulCycle. Last week, Eater reported that Ross, through his investment company RSE Ventures, also has a stake in "Momofuku, Milk Bar, Bluestone Lane, SoulCycle, fast-casual chain &Pizza, and 'for women, by women' tampon start-up Lola." His real estate development firm, the Related Companies, is also the force behind Hudson Yards, a temple to experiential luxury capitalism in New York City.
It's always a version of the same story: a company that brands itself as progressive is exposed as not that, and once again we're left to confront the basic impossibility of a multibillion-dollar corporation being a progressive anything. Ross is an investor in the comparatively budget-friendly Blink Fitness and owns the Miami Dolphins, but the aesthetics of those brands don't outwardly project lifestyle in the way that Equinox and SoulCycle aim to with their marketing. The SoulCycle member doesn't just ride a stationary bike, they project their values and community through their association with the brand. The problem of Ross's politics only appears to the consumer when it doesn't match those aesthetics—the story that wealthy people can tell themselves about the consumer choices they make.
This dissonance appears when AT&T donates to Pride but also spends millions funding the campaigns of anti-LGTBQ candidates, because they're the same people who don't believe in regulating monopolistic corporations. Or when Whole Foods stocks organic and sustainably farmed lettuces while trying to stop their workers from unionizing (and while its parent company Amazon holds significant business ties to a company that works with Immigration and Customs Enforcement to surveil and terrorize immigrant communities). Or when the chief executives of multibillion-dollar companies tweet their disappointment at the president's climate policy while their companies donate large sums of money to the very people who are currently salting the earth. 
These connections can feel surprising for people who believe that their tastes or personal preferences are somehow an inoculation against the ways that money flows under capitalism—toward power, toward violence, toward accumulation at the top.
There is something particularly visceral about the cruelty of the current administration, and people are rightly outraged by the harms it perpetrates. But the system with these kinds of incentives baked into it predates Trump, and will outlast him. Stephen Ross will find someone else to fundraise for long after the president eventually leaves office or dies on the toilet at some point before then.
And at that point, when the machinery keeps humming with different players behind the wheel—though maybe more efficiently, and maybe with less of a taste for the theater of cruelty—the system that funds and demands it will still look the same. Because the problem isn't just Trump—the problem is Stephen Ross, too. That kind of money is always tied up in violence, and no amount of virtue signaling from a tastefully minimalist brand changes that.
A glimpse of that found its way into the Times piece, more than halfway into the story. An economical little sentence that somehow felt like the most cutting and revelatory in the whole thing—the reason this was all happening—stated, plainly:

Mr. Ross, the man whose political fund-raising is at the center of this tempest, is a billionaire who owns the Miami Dolphins and has a wide range of business interests anchored by the Related Companies, one of the most powerful real-estate interests in New York.