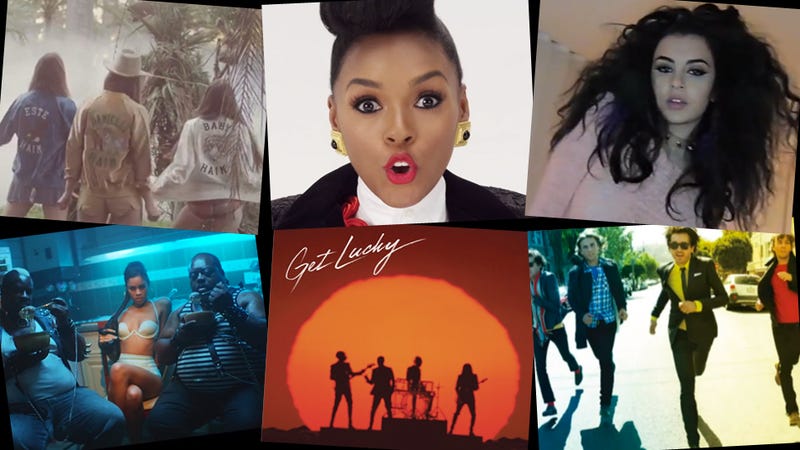 Saturday nights are for going out into the world and finding adventure. They are for being young and alive, for perfecting the smokey eye, for getting your hair twisted just so, for wearing the most daring thing you own, and ultimately, for giving into the possibility of what your life could be if your life was the sort of thing people might want to feature in a short art film or, say, a commercial for BMW. But there's one thing you'll need to pull off this dramatic piece of performance art: a good pop song. Or six.
Pop songs are brilliant, deceptively simple and make people happy; pop songs are a vapid, crass commercialization of art made for 12-year-old girls and therefore can't be taken seriously. While this sounds like a pointless argument to most of the world, it is in fact a real argument being had among irritating music snobs all the time since the dawn of time, or at least the dawn of pop songs. But sorry, music nerds, you lose this one, because there's one thing you'll never get from knowing too much about Jandek: how to go out in the world on a Saturday night and give into the romance of the night. For that, pop songs got your back.
Yes, pop songs are disposable as fuck. You say that like it's a bad thing. They are meant to come and go, to lodge in your brain for one night, one month, one summer, one semester. And yet, in spite of this obvious limitation, pop songs are extremely versatile and useful, perhaps moreso because they know they are not built to last, so they get shit done fast. Against a typically upbeat backdrop that makes all manner of people feel like standing up and getting down, you can work out all sorts of complex human emotions, sometimes — how can this not impress you? — in under three minutes. That's cheaper than drugs, therapy, or hoping someone is online to chat about your dumb problems on Facebook.
And as if you needed science to tell you: while your body is swaying, the music is lighting your brain up something good. (In fact, they can tell based on how much your brain lights up how much you like it.) Scientists may not know exactly what/how chemicals are involved in the pleasure involved in listening to music, but my money is on whichever ones most resemble the hardest opiates, because there's a feeling I get from pop that I just can't score off the most up-all-night drug. All the lab coats know is that we like it, and it makes us feel better, with virtually no ill effects.
Luckily, it is always in supply. It is an always-replenishing pool of shiny-slick affirmations, glamorous beats, alluring hooks, truer-than-true-truths. And since your life is made up of a bunch of Saturday nights, here's a fresh-out-of-the-oven batch of six new pop songs to get you through the next few.
Band: Haim
Song: "Falling"
Mood: Transcendent
As if the comparisons to 90s girl groups, Fleetwood Mac and Michael Jackson are not enough to lure you, the band Haim combine these things to transcendent effect. These ladies from Los Angeles and their killer vid filmed in the hills of Pasadena are like your pop music spirit animals, and the fact that they have satin jackets with their names on them pretty much seals the deal for me. I played this for a friend who said it made her want to throw on some cut offs and dance on a rock. Holla.
Band: Janelle Monae
Song: "Q.U.E.E.N." featuring Erykah Badu
Mood: Fierce
This lady of funk, soul, pop and good hair has a new single out, this one with Erkyah Badu, called Q.U.E.E.N., and it's buoyant as fuck. Is it about her sexuality? Race? Gender? Class? Life? A dystopian future? Great hair? Check check check cha-check check. It's also about getting down, and if you don't wanna get striped, sleeked and coiffed after listening, check your pulse. Do stick around for the last minute of the song, though, when this bounce-and-strut goes Charlie's Angels with a masterful call-out to the entire universe.
Band: Charli XCX
Song: "What I Like"
Mood: Playful
Charli XCX is a British rave-pop queen who you might already know of, even if you don't know you know: She wrote last year's (and the GIRLS spotlighted) club banger "I Love It" by Icona Pop. But she also does her own equally infectious sludgy pop candy that blends jumbo plats with ecstacy-laced imagery about boys, sunsets, love, and hanging out with your ladies. You know, the good stuff.
Band: AleunaGeorge
Song: "Attracting Flies"
Mood: Pissed
Freshly single? Tired of a certain person's bullshit? Do you like that attitude served up with stuttery bloop-de-bloops and loads of restraint? You came to the right place, with this little catchy as all get-out gem from British electronic duo AlunaGeorge. "Little gray fairy tales / and little white lies / everything you exhale / is attracting flies," coos Aluna Francis, with an icy detachment that will arm you for an entrance into any shark-infested waters out there.
Band: Phoenix
Song: "Trying to Be Cool"
Mood: Wistful
Phoenix is a pop band full of hot French guys who write songs about incomprehensible things which all sound disaffected, cool, French, and dreamy. They have a new record out chock full of pop goodness, but this song, "Trying to Be Cool," is the crème de la crème of the glittery cool they are so good at, which is to say it infuses everything with a hazy gauze of nostalgia that makes you excited for now and wistful for then all at once. (Side bonus: When I play this for my 3-year-old she exclaims, "It sounds like snow, mommy! It sounds like Christmas!")
Band: Daft Punk
Song: "Get Lucky" featuring Pharrell Williams
Mood: Fun
No list of fresh pop thrills of the moment is complete without the new single "Get Lucky," from robot-pop masters Daft Punk. It has everything you'd want in a pop song to hit the Saturday night streets: the disco beat, the sweet licks, the smooth croon, the airy sheen, and, of course, the sentiment: going out and doin' it. "She's up all night for good fun/ I'm up all night to get lucky." Indeed.
Consider yourself armed for battle. Now get out there and make it count!