When a miserable, dihydroxyacetone-stained businessman sits in the Oval Office, it's easy to tell yourself that his hypothetical untimely exit would be a net positive. Unfortunately, the incomparable Jane Mayer has a new feature on Vice President Mike Pence in the New Yorker reminding us that we are completely screwed every which way.
Mayer, who has done extensive, award-winning reporting on the Koch brothers and other far-right billionaire donors over the years, focuses on Pence's relationship with the Kochs, which is rather... extensive. The picture she paints is chilling, because the Kochs, though many miles more disciplined and cautious than Trumpists, aren't any more interested in preserving a traditional democracy; they have spent decades yanking the country towards what is essentially a dystopian plutocracy. "If Pence were to become President for any reason, the government would be run by the Koch brothers—period. He's been their tool for years," Democratic Senator Sheldon Whitehouse told Mayer; Steve Bannon, who has himself enjoyed lucrative support from the Mercer family, shared a similar sentiment ("I'm concerned he'd be a President that the Kochs would own").
Mayer reports that Pence became quite involved in stirring up opposition to a cap-and-trade bill that was gaining ground in Congress in 2009, in case you'd like to thank someone in particular when our planet turns into a blazing fireball. The bill eventually died in the Senate, and Pence seems to have been rewarded for his advocacy; among other things, the Kochs, Mayer reports, eventually donated $200,000 to Pence's Indiana gubernatorial campaign.
Short said that he "didn't recall the Kochs ever asking for help on the issue," adding, "The Republican Conference believed it was a winning issue because of the impact that the bill would have had on jobs." In any event, the pledge marked a pivotal turn in the climate-change debate, cementing Republican opposition to addressing the environmental crisis.

Peterson said that the Checks & Balances Project hadn't detected "much money going from the Kochs to Pence before he promoted the 'No Climate Tax' pledge." Afterward, "he was the Kochs' guy, and they've been showering him with money ever since." Peterson went on, "He could see a pathway to the Presidency with them behind him."
Pence was a spectacularly terrible, ideologically rigid governor whose best political option in 2016, facing a tough reelection campaign, was to risk hopping onto team Trump, according to Mayer's reporting. Ed Clere, a Republican state legislator who fought the Pence administration for a syringe-exchange program to combat the state's AIDS crisis, told Mayer that he'd prefer a president Trump over Pence "every day of the week, and twice on Sunday."
But the Kochs, at least, who reportedly favored Pence as a 2012 presidential candidate, seem to be doing well enough with Trump in office. Here's one doozy of a paragraph that summarizes what happened after Pence abruptly replaced Chris Christie as leader of the transition team a few days after the election:

Trump began to appoint an extraordinary number of officials with ties to the Kochs and to Pence, especially in positions that affected Koch Industries financially, such as those dealing with regulatory, environmental, and fiscal policy. Short, who a few months earlier had tried to enlist the Kochs to stop Trump, joined the White House as its director of legislative affairs. Scott Pruitt, the militantly anti-regulatory attorney general of Oklahoma, who had been heavily supported by the Kochs, was appointed director of the Environmental Protection Agency. Pruitt, in turn, placed Patrick Traylor, a lawyer for Koch Industries and other fossil-fuel companies, in charge of the E.P.A.'s enforcement of key anti-pollution laws. As the Times has reported, a document called "A Roadmap to Repeal," written by Koch operatives, has guided the E.P.A.'s reversal of Obama Administration clean-air and climate regulations. Don McGahn, who had done legal work for Freedom Partners, became White House counsel. Betsy DeVos, a billionaire heiress, who had been a major member of the Kochs' donor network and a supporter of Pence, was named Secretary of Education. The new director of the C.I.A. was Mike Pompeo, the congressman who represented Charles Koch's district, in Wichita, Kansas; before Pompeo ran for office, the Kochs had invested in his aerospace business. Pompeo, the former transition-team member said, "wasn't even on Trump's radar, but he was brought in to meet him and got appointed, like, the next day."
G/O Media may get a commission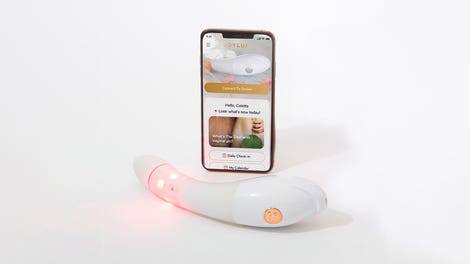 $50 Off
Joylux vFit Gold Device
No less nerve-wracking is Pence's extreme religious fundamentalism. "What these people are really after is contraceptives," Vi Simpson, former Democratic minority leader of the Indiana State Senate, told Mayer; indeed, HHS is filled to the brim with anti-abortion activists and advocates for abstinence-only education. It's been reported that he refers to his wife Karen as "Mother," and describes himself as a "Christian, a conservative, and a Republican, in that order." He has an extensive anti-LGBT record, one of several points, Mayer reports, on which the president has reportedly mocked him:
A staff member from Trump's campaign recalls him mocking Pence's religiosity. He said that, when people met with Trump after stopping by Pence's office, Trump would ask them, "Did Mike make you pray?" Two sources also recalled Trump needling Pence about his views on abortion and homosexuality. During a meeting with a legal scholar, Trump belittled Pence's determination to overturn Roe v. Wade. The legal scholar had said that, if the Supreme Court did so, many states would likely legalize abortion on their own. "You see?" Trump asked Pence. "You've wasted all this time and energy on it, and it's not going to end abortion anyway." When the conversation turned to gay rights, Trump motioned toward Pence and joked, "Don't ask that guy—he wants to hang them all!"
I really wish this was all, but it isn't! Read the New Yorker's entire report here.