The sun is shining. The heat is thick. Raw, frantic sensuality pulses through the air. Summer has arrived, and with it, a new crop of fashion trends to keep you looking fresh. Specifically, I am thinking about one trend. Maybe you should think about investing in an extremely wide tie and some chest hair? Everyone is doing it!
The New York crony look has been around for decades, but its adherents have really lit up social media feeds since Donald Trump became our president, and what a treat that has been. When Evgeny "Gene" "Taxi King" Friedman stepped onto the scene yesterday after pleading guilty to criminal tax fraud, it became clear: Business Dirtbag has never been more in.
So what gives your look that Business Dirtbag feel? You've really got an infinite number of options, but slicked-back (or entirely absent) hair is pretty important. On weekends, you might want to go for Business Casual Dirtbag, which could mean a deep-V button-down, or maybe even a fun fleece vest with large gold jewelry peeking out. As you can see on Gene above, barely-tinted rectangular glasses are a daring and effective little piece of added flair (watch out, Bella Hadid!).
But sometimes, even casual moments—like enjoying some male bonding time at the Regency Hotel in Manhattan after your office has been raided by the FBI—can require some sort of suit-adjacent outfit. Enter Michael Cohen:
G/O Media may get a commission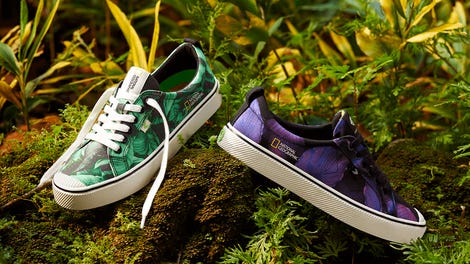 New New New
Cariuma + National Geographic
Here, Cohen is really nailing the major elements of a successful Business Casual Dirtbag look: A plaid blazer that is too tight around the middle, a wrinkled black nighttime pant, a crisp, jarringly white button-down, and a smile that says: "What audio recordings?" These are all things you absolutely need in order to smoke a cigar in public as the feds close in.

Let's walk through a few more scenarios. Say you have a fancy event coming up. A gala, if you will. You might want to take a page from Don Jr.'s book, a Business Dirtbag who absolutely crushes it every time:
Here, the advice is pretty simple: If you think your suit is a little too loose, and/or a little too light-reflecting, perhaps exchange it for a suit that is even larger and shinier. Everyone you have a conversation with will think: "This person is lying to me right now," or "this person will try to have me killed but is too incompetent to follow through." And that's the idea!
Moving on to the image below, where everything is looking crisp as can be. But even when forced to tone it down, Don Jr. always makes sure to incorporate that little extra bit of personality into his look. Usually it's just his weird hair, but in this case, it's also a gold pin that says "Deplorable":
It really works!
Okay, who am I missing? Ah:
There has never been a better time to dress, and behave, like a creepy tax evader. If that feels authentic to you, now's your chance to flaunt it. But as Rudy Giuliani demonstrates here, Business Dirtbag can only be pulled off if you really carry it in the face. If you've got a pinstripe suit from 1987 but your eyes say "I love to jog in the park on weekends," it just isn't going to happen. Work on getting your expression to a more squirrely, paranoid place, and your summer look will be complete!