Dig out your blue eyeshadow, your body glitter and your Aqua Net, because it's time for PROM WEEK on Pictorial.
Considering that during the 1950s the median age of first marriage for American women limboed down damn close to the teen years, it's no surprise that prom was a very hot ticket.
For a peek at prom during the reign of the feminine mystique, we can turn to the Prelinger Archive and the educational video, "The Prom: It's a Pleasure!" It's from 1961, but it's really a cultural artifact of the previous decade. It also makes for a nice glimpse into what anybody talking about "the good old days" might be picturing.
Made by Coca-Cola in a retro example of sponsored content, the video opens with an explanation of the America's Junior Miss pageant hosted annually in Mobile, Alabama. "Just another beauty contest? Oh, no," the voiceover reassures. "All contestants are judged for character, citizenship, high school activities, personal ambitions, poise and demeanor—essential elements in the grooming of all young ladies."
G/O Media may get a commission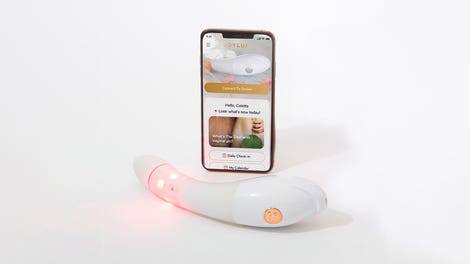 $50 Off
Joylux vFit Gold Device
"America's Junior Miss is symbolic of the nation's ideal high school senior girl," we're informed. "The most appropriate person to tell us about the most important social function—the high school prom." And so the winner—who in 1961 just happened to be Mary Frann, who would go on to play Bob Newhart's wife in Newhart—proceeds to walk you through "this very special evening." Or at least how the night was imagined to play out for well-to-do suburban white teens. (Mobile, where the short was filmed, wouldn't even begin desegregating its schools until 1963.)
The guidelines are thorough and explicit, with reenactments featuring Mary and a date named Dick. Boys should ask as soon as possible, and the girl should accept or decline as soon as possible. Implicit: Girls should not ask boys, boys should not ask boys, and girls should not ask girls. Boys should go ahead and ask their dad for the car, securing transportation in advance, and it's also a nice touch to make sure to buy flowers that'll match your date's dress. Meanwhile, with the approval of mom and dad, the girl goes out and buys something that looks like this.

Girls have dance programs, which their dates fill out, taking the first and last spot and writing buddies' names in between. Girls proceed boys onto the dance floor, unless there is a crowd the boy's got to muscle his way through. You are welcome to applaud the orchestra or not; either is acceptable.
These teens, as portrayed by the scriptwriters of this short, are practically already adults, happily conforming to all the social norms of the period. The amount of poise Dick and Mary display as they introduce themselves to the chaperones is basically science fiction. The closest the short comes to showing rock and roll or even youth culture at all, frankly: When a jitterbugging couple is used to illustrate that ladies are welcome to bail on show-off partners.
The brightest glimmer of familiarity comes when these alleged teens are talking about what they're going to wear. The dress code is different, reminding one that the late '50s were a time when people still dressed for dinner—Mary is wearing a long dress in a "delicate pale yellow with tiny daisies scattered on the skirt and across the top," while Dick discusses with his pal whether he can get away with merely a white dinner jacket as opposed to a full-on tux. (Suits are right out.) But the back and forth, hashing out the details, is at least recognizable.

Not to mention the framing of the after-party—which prominently features Coca-Cola, of course—sounds like perhaps they're protesting too much: "But prom night isn't over. Whether it's a snack on the way home or a more formal buffet at Jack's house, the evening continues in the same way—with graciousness, consideration, and fun." So, cheap beer and necking out by the lake, then?