Labor groups urged massive clothing retailers including Gap and Wal-Mart to sign an international pact this week that would solidify safety standards and send a clear message that big brand names won't allow another easily preventable tragedy like last month's factory collapse in Bangladesh, which killed over 1,000 people, to happen again. Naturally, most U.S. companies that produce in Bangladesh refused to sign it.

By Wednesday, more than a dozen European retailers had signed the pact introduced by IndustriALL (a global federation of unions), including Benetton, Topshop, Zara and H&M. But Abercrombie & Fitch and PVH Corporation, the parent company of Calvin Klein and Tommy Hilfiger, were the only U.S. companies that got on board; others said the language could get them into trouble.
Which, duh: that's exactly the point of an agreement that holds companies accountable. This five-year pact makes sure that retailers who source clothing from Bangladesh pay for independent inspections, mandatory building repairs/upgrades and training. It also requires companies to stop working with factories that refuse to comply with necessary upgrades, and ensures that workers and unions aren't left out of the process. If these companies care about worker's rights — as they so often claim they do — why won't they sign?
"It's a smokescreen," Scott Nova, executive director of the Workers Rights Consortium, told the Washington Post. "The agreement doesn't create any additional legal liability. Companies only have to meet the terms of the agreement."
G/O Media may get a commission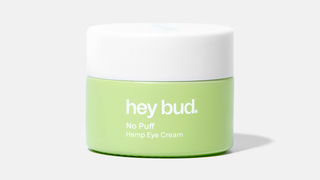 15% off
Hey Bud - No Puff Hemp Eye Cream
"You have major British companies like Marks & Spencer and Tesco signing up, respected companies from a legal system that isn't all that different from our own," said Janice Bellace, a professor of legal studies and business ethics at the University of Pennsylvania. "It's not clear why the U.S. companies think it will be so different."
The problem isn't money, either; the agreement would probably cost companies about $3 billion over the next five years, Nova said, which is basically chump change for the companies refusing to commit. "In the context of the broader industry, that's a relatively small amount," Nova said. "Bangladesh will export hundreds of billion of dollars worth of apparel in the next five years."
Here are the major companies that didn't sign by Wednesday's deadline:
Wal-Mart
Wal-Mart Stores was under immense and rightful pressure to sign the pact, given that it's the largest retailer in the world and the second-largest clothing maker in Bangladesh after H&M; apparel had been produced for the company in the factory building that collapsed last month. But Wal-Mart refused to sign because the agreement "introduces requirements, including governance and dispute resolution mechanisms, on supply chain matters that are appropriately left to retailers, suppliers and government, and are unnecessary to achieve fire and safety goals."
The company said Tuesday that it'll oversee its own public, "in-depth" safety inspections at the 270 Bangladesh factories it uses within six months. According to Wal-Mart, Wal-Mart's safety plan is even better than the IndustriALL proposal and "will get results more quickly." Well, if Wal-Mart says so, it must be true!
Gap
Gap, the world's third-largest apparel company, was also under pressure to sign, given its size and reputation of actually caring about social responsibility (unlike some other companies that rhyme with Schmal-Kart). The plan's supporters hoped that other retailers would agree to sign the plan if Gap did, too. But it didn't — and, in fact, "Gap has been the most vocal critic of the plan, saying it feared that joining would subject it to undue liability," according to the New York Times:

Gap sent a letter to employees at its headquarters on Wednesday, saying, "We take our commitment to improving working conditions in Bangladesh very seriously." The letter said Gap had hired a fire inspector to examine the 78 factories it uses in Bangladesh and had promised up to $22 million in loans for factories to make safety improvements.
A Gap spokesperson said it was "six sentences" away from signing on Tuesday; it wanted to remove language on arbitration. But IndustriALL wouldn't give Gap special treatment, so Gap didn't sign.

J.C. Penney
The company told press that it was still evaluating the plan earlier in the week; it didn't end up signing.
Target
Didn't sign, didn't comment.
Sears
Sears didn't sign and is also going the "it's chill, we'll just police ourselves" route, according to USA Today:
Sears spokesman Howard Riefs said late Tuesday that the company will continue with discussions, but is not ready to sign the union plan. He says the company also is in preliminary talks about the retail trade groups' alternative.

Meanwhile, Sears, which also owns Kmart, "will continue to assess the overall risks in each factory in Bangladesh that produces our merchandise, with added scrutiny towards fire safety and building integrity," Riefs said in an e-mail. "Factories that cannot reach an acceptable level of compliance with the requirements of our Global Compliance program will be terminated."
Looks like we need a few more heartbreaking — and, again, very easily preventable — factory disasters to guilt the world's largest retailers into prioritizing their worker's lives over building new floors and producing cheap T-shirts.
[Sources: USA Today, New York Times, Washington Post]
Image via AP.