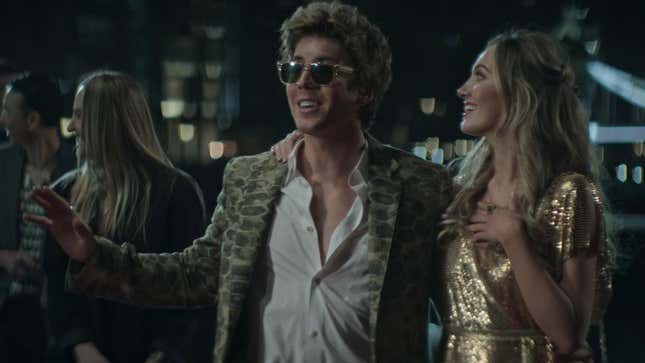 Netflix's You is back with a vengeance—and notably fewer fingers on Joe's hands—and is armed with its infamously provocative sex scenes. In previous seasons, these have included an encounter between Love and Joe within moments of beating and locking up a couple with whom they were in the midst of a foursome moments earlier, and, of course, multiple snippets of Joe masturbating in his car. And in this first half of Season 4, we're almost immediately treated to a golden showers subplot offering surprisingly incisive class analysis.
Since the events of last season, Joe has moved on to London and rebranded as a literature professor named Jonathan Moore, where he meets and is insinuated into a group of aristocratic, predictably obnoxious frenemies. This new circle includes socialite-influencer Lady Phoebe and her boyfriend, an American named Adam Pratt. While both are wealthy, Phoebe is substantially more so, leaving Adam more or less financially dependent on her. This doesn't appear to bother Adam—until we (and Joe) see Adam getting it on with a busboy, whom Adam directs to urinate on him.

In episode 5, we learn—along with Phoebe—that class anxiety lies at the heart of Adam's piss kink. When Phoebe offers to pee on Adam shortly after the couple becomes engaged, he stops her, explaining that his desire to be peed on is "about the person being beneath [him]" status-wise. For him, piss play is an outlet for both escaping and channeling his frustrations with the economic inequalities of their relationship. And while Adam insists that this isn't "a big deal," Phoebe responds, "Do you know where kinks come from? The deepest parts of your mind. And the deepest part of you is telling us exactly what we need to know: We aren't equals in this relationship. We aren't true life partners." She then unceremoniously dumps him.
Dr. Liz Powell, a sex educator and therapist who's helped many clients navigate humiliation play, said examining relationship power imbalances through piss kinks like this is more common than you might think in the real world.

"So much of kink is about playing with power," Powell told Jezebel, highlighting the "classic kink stereotype" of a high-powered businessperson wanting to be submissive in the bedroom. When "you're given the orders," she said, it "can feel like a really huge relief" for someone who's otherwise very much in charge in their daily lives.
G/O Media may get a commission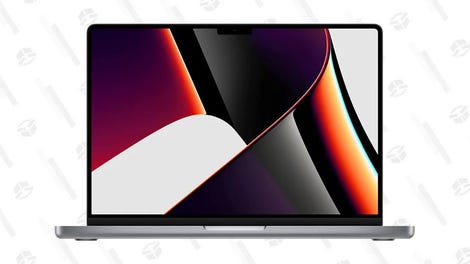 Save $300
2021 14" 1TB MacBook Pro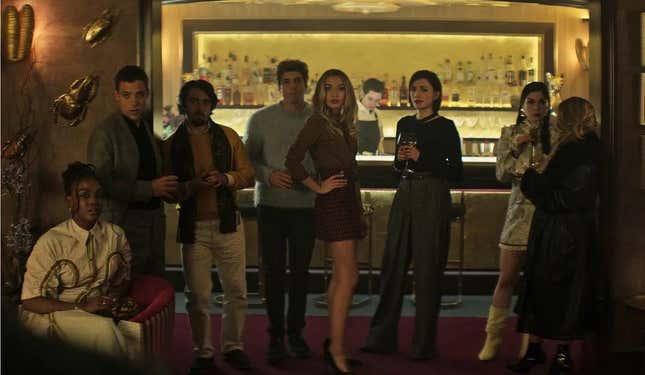 Powell noted that it's "almost impossible for both of the parties in a relationship to be at completely equal power," creating situations like Adam and Phoebe's. In such cases, Powell said that many clients and other experts she's worked with "use kink to explore the societal axes of oppression, and especially humiliation play." Specifically: Plenty of "people in the kink scene are very into explicitly including elements around class and financial status in their play," sometimes as a safe outlet to unpack "things that might be causing conflicts in their relationship." For example, if you're dating someone who makes significantly more money than you—creating "really complicated situations" for the relationship—for some, kink can be a more comfortable or enjoyable outlet to understand mixed feelings around this, Powell said.

Piss play, in particular, can help couples and sexual partners have fun with power-based anxieties: "There's the age-old metaphor of men calling themselves alphas, and wolves marking their territories by peeing," Powell said. "And in this very primal or animalistic sense, urinating on something can be an act of claiming ownership and creating a strict, sexually gratifying hierarchy."
You has never shied from poking fun of the out-of-touch: Beck and her elitist friend Peach in Season 1; Love's hippie, crime-addled family in Season 2; and all of Love and Joe's granola-mom and venture capitalist neighbors in Season 3. This season, Joe's new "friends" are more overtly terrible than ever before, whether they're casually abusing wait staff at Phoebe's country house; gleefully rooting for oligarchy and the fall of democracy between lines of cocaine; or even laughing off the murders of their own friends.
Phoebe and Adam are both extremely rich, but Phoebe's higher status is (apparently) so threatening and uncomfortable that Adam is compelled to seek out others to urinate on him for relief. This subplot certainly comments on the greed of the ultra-rich and their inability to feel satisfied or sufficient. But there's also something universally relatable at the heart of this: Relationships and the power dynamics that belie them are often tricky, and often difficult to talk about. And in the absence of words, urine speaks volumes.