Shia LaBeouf, Nastja Säde Rönkkö, and Luke Turner, the trio of multimedia artists responsible for iconic work like "I AM NOT FAMOUS ANYMORE" and "#ALLMYMOVIES," are back at it again! But this time their subject isn't LeBeouf's fragile ego or embarrassing filmography, it's America's impending doom.

Their newest piece is called "HE WILL NOT DIVIDE US," and here is its official description:

Commencing at 9am on January 20, 2017, the day of the inauguration of the 45th President of the United States, the public is invited to deliver the words "HE WILL NOT DIVIDE US" into a camera mounted on a wall outside the Museum of the Moving Image, New York, repeating the phrase as many times, and for as long as they wish.

Open to all, 24 hours a day, seven days a week, the participatory performance will be live-streamed continuously for four years, or the duration of the presidency. In this way, the mantra "HE WILL NOT DIVIDE US" acts as a show of resistance or insistence, opposition or optimism, guided by the spirit of each individual participant and the community.
After clicking a link to the livestream, I saw Jaden Smith—bundled up outside the Museum of the Moving Image in Queens, saying, "He will not divide us," to the camera over and over again. It was a sort of comforting reminder that despite whatever horrors may result from Trump's presidency, the Smith children will continue making art.
Before long, someone else showed up. A friend of the artists? A friend of Jaden's? A random passerby? Someone who saw the stream and bolted to Long Island City for the chance to make art with the child of Will and Jada Pinkett Smith—an action I briefly considered? No one knows.
G/O Media may get a commission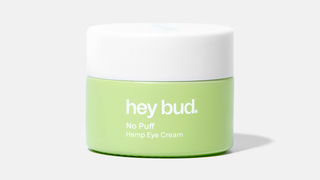 15% off
Hey Bud - No Puff Hemp Eye Cream
Then two confused middle-aged men in suits and overcoats showed up—not to participate, but to watch. [Author note: the men were eventually identified. See the update at the bottom of this post.] Though, isn't the act of watching this piece of art the same thing as participating in it? Maybe.

Those guys eventually left to go, I don't know, make a lot of money somewhere, and then Jaden started doing knee lifts, either to stay warm or because, like, maybe walking in place symbolizes the frustration we all felt when Trump was elected? Like we thought we were moving forward, but really we just stayed in the same terrible place?
Anyway, this is streaming for the next four years if you ever need to ignore whatever Flubber's orange half-brother is doing in the White House.

UPDATE: I received an email from the museum's Public Information Manager identifying the two men in suits and have pasted it below:
Hi Bobby,

Thanks for highlighting the installation at the Museum in your story.

I want to point out that the two men in suits are the Museum's Executive Director Carl Goodman and NYC Council Majority Leader Jimmy Van Bramer, who is also the Chair of the Council's cultural committee (and a tireless supporter of the arts and inclusivity). I think it's unfair to assume that all men in suits are out to just make money.

Thanks,

Tomoko Kawamoto

Public Information Manager
MUSEUM OF THE MOVING IMAGE