"Why isn't she in tears now?" asked assistant district attorney Stuart Silberg during his statement ahead of the sentencing of Yosleyn Ortega in Part 32 of New York Superior Court on Monday. Ortega had just sat through over 40 minutes of statements from Marina and Kevin Krim, whose children Lucia and Leo she killed on October 25, 2012, and was convicted of murdering in that same courtroom last month. True to form, the Krims' words in court were courageous to speak and grueling to hear. Also true to form, Ortega seemed unaffected, staring straight ahead or bowing her head with no discernible emotional response.
She would eventually cry though. After the Krims and Silberg argued that she should be imprisoned for life, after Ortega's eccentric attorney Valerie Van Leer-Greenberg pleaded that the judge to show her client "the mercy of our law," literally begging that Carro "weigh and consider her [mental] sickness," Ortega spoke up to plead for mercy herself. It was the first time she had spoken for longer than a brief interjection or louder than a stage whisper in that courtroom—the only time the jury heard directly from her during her trial was via footage of an interview with psychiatrist and expert witness of the prosecution, Dr. Ali Khadivi, filmed in 2016.
"I'm very sorry for everything that happened but I hope that no one goes through what I have gone through," said Ortega in Spanish during her sentencing hearing. Her voice was deep and scratchy. A translator repeated back what she was saying in English:
Although many people wish me all the worst, my life is in the hands of God. I am in jail, but perhaps there are many more that are more imprisoned than I am. I ask for a great deal of forgiveness: to God, to Marina, to Kevin. I wish my family...I told my family that I did not feel well. At one time when I was walking, I had Lulu, I told Lulu, "Lulu I don't feel good," and she would say, "What's wrong? I have to go to the bathroom." I went to the doctor. He gave me another appointment. He said, "If you don't come they're going to charge you $10." I told Marina. I didn't tell her it was for the doctor but I told her I had an appointment, but she had another appointment and I was not able to go. I really feel it deep in my soul. And to the D.A., may God bless you for everything he wishes me and everything he has done, but God is up there.
As she spoke, her voice quivered and she began to weep. So egocentric were her words that she certainly didn't at all seem to be interested in disproving the Krims' repeated accusations of narcissism. Van Leer-Greenberg had revealed during her statement that at Rikers, Ortega had refused to take the variety of drugs she's been prescribed of the antipsychotic, antidepressant, and anti-anxiety varieties.
G/O Media may get a commission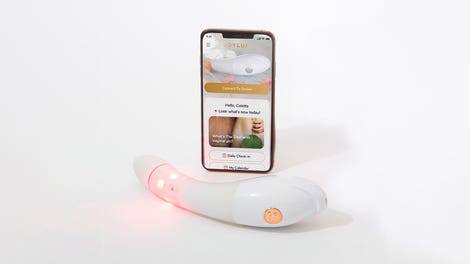 $50 Off
Joylux vFit Gold Device
Moments after Ortega's rambling and sporadically coherent statement, Judge Carro handed Orega the maximum possible sentences: 25 to life for each of the charges of murder in the second (to be served consecutively), and life with no possibility for parole for the charges of murder in the first. Ortega is 55 and will die in prison.

"I really can't sum up this tragic case any better than the witness, Mr. Minihan," said Carro before delivering his ruling, referring to Michael Minihan, the super of the Upper West Side building the Krims lived in at the time of the murders. Minihan was among the first people to enter the apartment after Ortega killed Lulu and Leo. "'Pure evil,' is what he said."
"The evil defendant," is how Marina Krim referred to Ortega during her 13-minute statement. Before taking the podium, the mother of the murdered children hesitated and heaved several deep breaths. Once there, she admitted she hadn't planned to return to that courtroom after her emotional testimony at the start of the trial.
"I felt like I expressed a lot of my rage and did what was required," she said. "But I'm here once again to finish this horrible chapter of my and my family's life."
Marina spoke of her surviving daughter Nessie's resilience and how the spirts of Lulu and Leo live on in the children that Marina and Kevin have had since the murders, Felix and Linus.
"The defendant robbed Nessie. Her family robbed her, too. I've learned so much these past five and a half years about myself," said Marina, her voice breaking. "About people and about human behavior. My family and I, we create and build. The defendant and her family they destroy and ruin. The defendant set out to destroy what Kevin and I had created and built, an inspired, happy, thriving family. But she failed. What actually happened is the defendant destroyed her own family. She has destroyed the pride her family once felt. She has destroyed any sense of peace they'll ever have."
Marina blamed the deaths of her children not just on Ortega, but on "a conspiracy of an entire family of bad, evil people," who had lied about Ortega's nannying experience (Ortega's family friend Yaquelin Severino sent a false letter of reference, for example). Marina said that not a single member of Ortega's family reached out to hers to express their condolences, not even Oretega's son, Jesus Frias, whom the Krims used to pay to walk their dog. Frias notoriously referred to the murders as an "accident" during his testimony.
"Jesus Frias sat in front of a traumatized jury winking and grinning at the jury members as if it were some kind of reality TV show he wants to win," said Marina, who went on to call him a "phony." Marina referred to Van Leer-Greenberg as "ridiculous" and deemed the defense team's lawyers and experts "disgusting people."
She also highlighted the Lulu & Leo Fund, which according to its mission statement, "helps children and families foster creative confidence and build resilience through programs that provide meaningful engagement with the principles of creativity." Much of the statement of her husband, who took the podium directly after her for 28 minutes, highlighted this work as well.
Kevin read words he'd spoken at his children's memorial service, which was held in November 2012. Lulu was "adventurous," "brave," and "at age 6...cooler than most of us were at 22." Leo was "so smart, so curious."
"We have a ritual at home: a little silk parachute with a gift attached appears each morning on one of the kids' birthdays," said Kevin. "The parachute's from Lulu and Leo, dropped from the stars. When Felix found his on his fourth birthday this past fall, he asked us in his earnest way when he could go up to the stars to meet them. He's a thoughtful and sweet guy and he'll be heartbroken as he grows up and learns the whole story. And yes, I am trying to break your heart."
Kevin also discussed his family's response to the deception that led to his and Marina's decision to hire Ortega: the push for Lulu and Leo's Law, which would "criminalize the deliberate falsification of an application or references for a childcare giver." He reported that parents, lawmakers, and professionals in law enforcement are "consistently shocked when they learn this wasn't already a law." He also said that senators and assembly people from both parties "are working to fix this glaring and dangerous gap in the law."
Kevin Krim called Ortega an "evil monster," an "utterly dangerous narcissist," and "a complete failure," who "should know nothing of hope" and "live and rot and die in a concrete and metal cage, like the ugly dark shadow of Lulu and Leo's bright shining lights." He pulled no punches in his assessment of the defense's case: "It was a disorderly, callous, venal, crass, manipulative, indecent, ignorant, self-engrossed, pointless, shameless, and at its core, an utterly dishonest and brutally cruel defense."
After Silberg delivered a compact recap of his closing statement, Van Leer-Greenberg was called on for her statement. The Krims and some of their companions pointedly, loudly got up from their gallery bench and exited the courtroom.
Van Leer-Greenberg repeated much of her side's argument, too: Ortega was mentally ill and resistant to treatment, she gave to 27 charities, she's a woman who is "dedicated to her son, her family, the poor of our society, and her religious beliefs." With the heightening drama of an invested preacher, Van Leer-Greenberg's speech took on Biblical proportions when she described the psychotic break that she argued led Ortega to kill the children: "The barriers gave, the waters smashed in and flooded her controls. The psychiatric symptoms burst forth with irresistible intensity. She dissociated, she encoded no memory for her misdeeds, her grievous acts."
Additionally, Van Leer-Greenberg accused the jury of failing to base their conviction on their "cold, objective analysis of the facts, but on their primal, raw emotional perceptions." She described the jurors as being "emotionally distracted, internally distraught, aggrieved by the dead children."
"They, I argue to you, misjudged my client's mental state," she said. "The jury perceived themselves as: 'We were simply a cog in the machine of coming to the answer that needed to, that was fought for. Every one of us individually could feel the heartbreak and the agony when they were on the stand testifying.'"
Before sentencing Ortega, Judge Carro rebutted Van Leer-Greenberg's assertion: "There's no evidence whatsoever that this jury did anything but follow my instructions on the law, and decide this case based on the facts they found and the rules of law that I set out for them."
Judge Carro acknowledged that Ortega's mental illness—depression, anxiety—had been established, but reconciled that with the jury's decision and his imminent life sentencing: "Normally, someone who suffers a mental illness, commits a crime that they're responsible for because it's an intentional crime, you knew it was wrong, you knew the nature and consequences of your act, but that still still leaves some mitigation to the crime that someone may commit because they suffer mental illness. But your failure to seek all these years treatment for your mental illness nullifies that mitigation."
And then Judge Carro condemned Ortega to a life in prison and she left the courtroom in handcuffs that were attached to a belt she wore.
Outside the courtroom, I talked to David Curtis, the juror whose words Van Leer-Greenberg had quoted from a press conference that immediately followed Ortega's April 18 conviction.

"I was incredibly angry," said Curtis of Van Leer-Greenberg's allegation. "We worked very hard to put that aside. We talked in the jury room extensively through the facts and through the knowledge of what was going on."
"Ultimately the rest of the statement she didn't quote is that it came down to the fact that defense's burden was to prove that she was not able to understand her actions at time that it happened and they didn't come anywhere near proving that," he continued. "And that's not our emotional reaction. For many of the people, the emotional reaction is we can't send somebody to jail for the rest of their life. How do you live with the emotional consequences of that? The emotion that we had was to protect the defendant in many cases."
Curtis was one of six jurors who attended the sentencing, including Sandra Nazario, Edgardo Chacon, and Darnell Jones. Chloe Beck, an alternate I spoke to after the trial ended and she was dismissed, was also in attendance. Almost a month after the trial concluded, many of them talked about its residual effects: flashbacks to moments from the trial upon seeing nannies on the subways or going to bodegas and seeing snacks the Krim children ate.
"I'm still dreaming of those kids," said Chacon.
The jurors I talked to told me they attended the sentencing to see this case to the end, perhaps for a sense of closure.
But those who followed it surely know that even if Monday concluded the case of Yoselyn Ortega (for now, pending an appeal), the sentence did not represent pure closure, per se. It was merely the gesture of it.
"What's unclear—mainly because you claim you have a lack of memory—is why you decided to take the lives of the children as well as your own," said Judge Carro before sentencing Ortega. "That's always going to be a mystery to us because you refuse to tell anybody."
The lack of explanation there creates a narrative stymie, a branch in this chapter of time that ends abruptly, leaving a void. Kevin Krim's Monday statement suggests he pivoted to pursuing another why. Quoting Friedrich Nietzsche, he offered: "He who has a why to live can bear almost any how. Marina and Nessie, you are my why."