For obvious reasons, Yoko Ono has advocated gun control for years: on this day in 1980, December 8, she witnessed her husband John Lennon shot to death just outside his home by Mark David Chapman, a crazed fan wielding a .38 Revolver purchased just by showing a driver's license. Lennon was shot four times with hollow-point bullets, which Chapman chose because they were "more deadly."
After Lennon was killed, Ono retrieved his bloodied eyeglasses and photographed them against a backdrop of Central Park, using them as a reminder of both how much he loved New York City and how cruel it could be. For Season of Glass—her 1981 album and her first after Lennon was murdered—she sat them next to a half-empty glass, and poured forth a beautiful, often challenging document of her grief. The album's first single, "No, No, No," began with the sound of four gunshots ringing out, followed by Ono's piercing, devastated shriek and a cacophony of slightly untuned guitars. On the outro, she sings:
You promised me, you promised me,

You promised me, you promised me.

I don't remember what we promised,

But I miss you!
The song alone is a salient enough argument for gun control; as art, it conveys the internal dissonance and confusion that Ono must have felt after her beloved's murder, and the act of recreating the scene at the beginning of the song feels both cathartic and a destructive impulse to submerge one's self into the moment that changed her life forever.
The death of an internationally famous icon at the hands of a deranged killer was perhaps a rarefied occasion, but as Ono reminded her followers today on Twitter, gun murder is not.
G/O Media may get a commission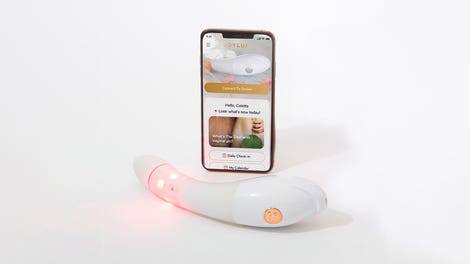 $50 Off
Joylux vFit Gold Device
Ono has advertised this image throughout the last 15 years on billboards in major American cities, and on December 8, 2013, she tweeted it once more in her gun control advocacy; at that time, though, her counter of people who'd been killed by gun violence since Lennon's death was 1,057,000. That day, President Obama retweeted her messages to his own followers, and Ono told the New York Times she had posted it while thinking about the Sandy Hook massacre that had occurred a year earlier.
"It was an incredible tragedy, and both my son and I are still suffering," she said. "It is an emotion that I think I share with other widows and families who have lost their loved ones. "

With the gun debate taking place around the country and in Washington, she said she thought it was time to speak up. "Many children were shot," she said. "This is what I can do and I did it. It was painful for me but I did it."

Ms. Ono also said that she thought it was important for people to understand what happened to her husband, who was shot four times in the back. "Instead of just enjoying John's beautiful songs, I wanted everyone to understand the reality of what happened to him," she said.
Last night, on Barbara Walters's Investigation Discovery show American Scandals, Walters revisited her 1992 prison interview with Chapman, and aired the first on-air interview with his wife, Gloria, in which she asked what fueled his impulse to kill. "He was sick in every way," she responded. The open-ended question, then, might be what might have been if he were sick, but hadn't had such easy access to a firearm?
In President Obama's address from the Oval Office Sunday night, he put gun control on the table as well:
We also need to make it harder for people to buy powerful assault weapons like the ones that were used in San Bernardino. I know there are some who reject any gun safety measures. But the fact is that our intelligence and law enforcement agencies—no matter how effective they are—cannot identify every would-be mass shooter, whether that individual is motivated by ISIL or some other hateful ideology. What we can do—and must do—is make it harder for them to kill.
In Season of Glass's "Goodbye Sadness," Ono more deeply encapsulates the toll of gun violence on survivors; it's a lullaby and one of the most straightforward and plaintive songs on the album, wresting in its own sorrow, the resignation flipside to "No No No." The chorus:
Goodbye, goodbye sadness

I don't need you anymore

Goodbye, goodbye sadness

I can't take it anymore
And Sean, too:
---
Contact the author at julianne@jezebel.com.