This week, The Guardian reminds us that lesbians are having better sex than straight women. Just in case you'd missed the previous media memos, which have been issued countless times over the last several years—often enough by men and with a degree of giddy emasculation, naked-lady stock art, and mysticizing of lesbians that makes me want to sit these stories down on the couch while I scribble notes and "mmm" at them.
This latest piece, inspired to look back at prior research following a new UK study finding high rates of sexual dissatisfaction among women, begins with a question: "Do lesbians have better sex than heterosexual women?" It immediately, and orgasmically, answers in the affirmative: "Yes. Yes. Oh my God, yes!"
As the Guardian notes, two major studies have found a reported orgasm divide between lesbian and straight women. In 2014, researchers found that lesbians reported having orgasms during sex 75 percent of the time, compared to heterosexual women who reported coming only 61 percent of the time. In 2017, a study found an even larger orgasm gap among women: 86 percent versus 65 percent. Then earlier this year, a third study reported that women were 32 percent more likely to orgasm with another woman than with a man.
Though the Guardian piece escapes the usual pitfalls of articles on this subject, it's worth reviewing the frenzied media coverage this kind of research has gotten over the years, which can best be summarized as straight-guy fantasies and anxieties. It's all about men, even when it's about women.
For example, in 2014, The Sun—which ranks as remarkably sensational, even among UK tabloids—ran a piece featuring interviews with, and original photos of, three different women who have sex with both men and women. All of the women were shown in red dresses and high heels while perched on a red leather couch. In one of the images, all three were posed on a bed together. The headline read, "Do women have better sex with women? O yes, yes… YES!"
G/O Media may get a commission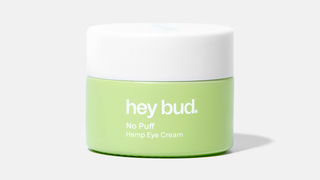 15% off
Hey Bud - No Puff Hemp Eye Cream
Last year, the findings from that second study brought about a deluge of stories, including a piece from Men's Health headlined, "3 Things Lesbians Can Teach You About the Female Orgasm," and which included such gems as "LESBIAN ORGASM TIP #2: ORAL SEX IS KEY."
But, really, the media blitz earlier this year topped the earlier ones. Men's Health announced in a headline, "Women Are 32 Per Cent Likelier To Orgasm Through This Method." The top-secret method was, of course, not being a dude. (The sub-head hilariously followed up, "This is not good news for us.") The Daily Mail offered sympathy: "Sorry, fellas: Ladies are much more likely to orgasm when they have sex with other WOMEN, according to new research." And The Sun just shamelessly went with stock images of nearly naked women laughing and caressing each other in bed.
Even beyond the worst tabloid examples, the mainstream media narrative around lesbians being "better" in bed rarely feels like the progressive, feminist storyline that I want it to be. Probably because in tabloids, men's magazines, and general interest publications alike—although to varying degrees—lesbians are cast as this witchy "other" capable of crazy sex voodoo and women as a whole are seen as inscrutable sexual curiosities. The coverage also tends to reduce the complex reality of sexual satisfaction to the simple frequency of orgasms, which has the odd effect of actually normalizing, even excusing, the orgasm gap between men and women.
Media coverage aside, the research in this arena does raise the possibility that the high rates of sexual concerns found among women—about everything from orgasm to desire—might not be "something inherent to being a woman," as Meredith Chivers, a sexologist who has extensively researched women's sexuality, told me in an email. Instead, as she suggested, it "may be driven, in part, by women having male partners."
That is kind of depressing! It's also a refreshing idea, given that the magnifying lens is so often scrutinizingly held up to women's sexuality—but that doesn't necessarily mean that we should instead focus it on men. In fact, that most recent study found that "more varied sexual behaviors and more self-focused orgasm goals do increase the likelihood that women will orgasm"—and that "these practices independently can account for some of the differences that we see in orgasm rates between women of varying sexual orientations."
The straight-girl climax gap won't be closed by stoking hetero dudes' fantasies or sexual insecurities while selling them LESBIAN ORGASM TIPS—but rather by encouraging women to focus on their own damn selves. Straight women don't need men to initiate "more varied sexual behaviors" or "more self-focused orgasm goals" during partnered hetero sex. They. Can. Do. It. Themselves. That's the thought that so rarely makes it into these stories—and that is part of the progressive, feminist storyline that we actually need. Maybe one day, centuries hence, we'll even be evolved enough to talk about sexual satisfaction beyond the orgasm scoreboard.