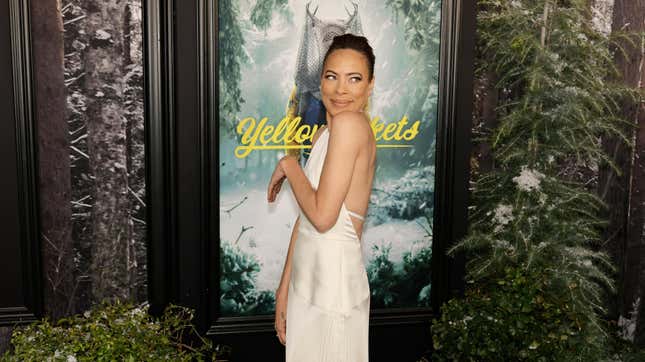 Tawny Cypress, otherwise known as adult Taissa in the hit Showtime series, Yellowjackets, makes a lot of apologies for her character. She's sorry for her bizarre—sometimes violent—habit of sleepwalking; she's sorry for the fact that she's shrouded in mystery; and she's really sorry about what may or may not become of her new adopted Yorkie, Steve. Regardless, we have no choice but to forgive her. After all, crash-landing and starving—or not—in the wilderness does weird shit to a person.

Alison Brie on Sex Scenes: 'We Are Actors, This Is Our Job'
Though we're just three episodes into the series' sophomore season, Taissa—both past and present—has endured...a lot. Back in the late nineties, young Tai (Jasmin Savoy Brown) just ate her teammate and continues to sleepwalk (most recently right to the edge of a cliff.) While the present-day iteration has discovered she unconsciously made an altar in her basement that includes her family's beloved dog's head. Of course, causing a near-fatal car crash that landed her estranged wife in the hospital certainly hasn't helped her psyche.
As both Taissas struggle to reckon with her—frankly questionable—decisions, one can't help but get the feeling things can only get more dismal. Cypress joined Jezebel via Zoom to chew on what's next for Tai. And yeah, she was contrite.
This interview has been edited for length and clarity.
Last season, we left Taissa facing so many reckonings—she's inexplicably sleepwalking and committing bizarre acts of violence, her marriage is imploding, and she's just won an election. What did you hope to see for Tai going into season two? Were your expectations met?
I hoped that Taissa's questions would be answered in season two. But I did not expect it to go where it went. It's definitely a 180 from the Taissa we knew from the first season so, there are going to be a lot more questions. I apologize in advance! My expectations were exceeded for this season. I didn't know what to expect, and I never do with this crew. We go to a lot of dark places with Taissa, so it was a lot of fun to play.
Are we ever going to get any resolutions regarding her sleepwalking? How soon? 
I wish that I could say yes. I think this is a part of Taissa's story that's going to take a couple of seasons to get through. It's pretty deep psychologically, but she does her very best to get help this season.
I read that you have names for who Tai is when she's sleepwalking and who she is when she's conscious: Our Tai and Other Tai. One gets the notion it's a supernatural phenomenon—especially given the flashback to her childhood in the last season. What were your theories reading the script?
I mean, as a fan of the show, I definitely think there are some supernatural qualities. I do think it's fairly interpretative. I think it's up to the viewer to decide whether this is supernatural or just trauma from her youth. The sleepwalking hasn't happened for Taissa since she was a teenager. She went decades without having this problem, so this is something that's coming up that she thought she'd already dealt with.
Now, we know there's an adult Van (Lauren Ambrose) out there and it appears in the trailer for season two that there's a reunion between the two of you. What can you tease?
I think that if we have an adult Van on the show, it would be pretty dumb to not have adult Taissa meeting up with adult Van. There's definitely going to be a reunion. It's good and bad. It's old love and all of it's baggage. But you'll get it the moment you watch. You'll get it.
Were you surprised to learn Van survived?

During season one, my biggest hope was that we would see an adult Van. Younger Van is my favorite character on the show. Liv Hewson does an amazing job with the character. I was really, really, really wanting that character to stay to the end and I'm so glad we have confirmation that Liv and Van are going to be okay.
Is Steve going to be okay? I don't know if we can handle another altar…
*laughs somewhat maniacally* Steve....the cute little Steve. You never know with Taissa. She seems to want to destroy Taissa's life so I wouldn't say anybody is okay or safe. Sorry! You might hate Taissa!