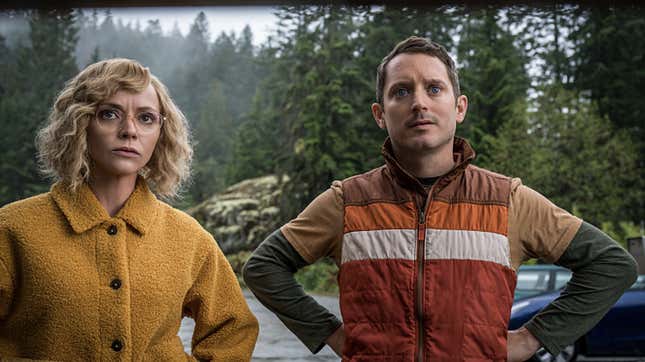 "Allow yourself to go back, no matter how difficult it gets," the new trailer for the second season of hit Showtime drama, Yellowjackets, begins. "What do you see?"
The question is posed to resident rebel with a heart of gold, Juliette Lewis (aka adult Natalie) by what appears to be series newcomer, Simone Kessell as adult Lottie. "Darkness," Lewis answers. "We brought it back with us."
That's right. Our favorite (potentially cannibalistic?) soccer team has returned. Forget goosebumps, friends—I've broken out in hives.
When we last left our girls, gays, and Travis (Kevin Alves) where they crashed in the remote Canadian wilderness in 1996, Lottie had emerged as the de facto leader of the dwindling survivors; Shauna (Sophie Nelisse)'s baby bump is decidedly bigger; and poor Jackie (Ella Purnell) had frozen to death after the group left her out in the cold (literally and figuratively). In the present day, Shauna (Melanie Lynskey) murdered her lover out of—perhaps undue—suspicion; Taissa (Tawny Cypress) discovered she's not only sleepwalking and devouring dirt, but capable of decapitating her family dog in apparent ritual sacrifice; Misty (Christina Ricci) has fatally poisoned the investigator poking around in the survivors' lives; and a suicidal Natalie has been kidnapped by members of a cult—most likely led by Lottie. Phew!
Per the one minute and 10 second trailer, winter has officially fallen wherever the team landed, and it appears that along with decreasing temperatures comes increasing desperation. In a series of quick images, we see Lottie doing something weird (again) with Travis, a huddle of people disguised by animal masks (notably more sophisticated ones than those seen during the series opener), and six people demonically dancing around a fire. But that's not all! We're also treated to a morsel of another series newbie: Elijah Woods as Walter, a citizen detective and friend of Misty.
"Kidnapping, cults, death," he lists out loud to Misty in a scene that doesn't last nearly long enough. "Your friendships are a little more complicated than most." Poor,Walter. He'll soon learn that this story isn't just about women's rights; it's about women's wrongs.
Now, this season has no shortage of loose ends to tie up. Some looming questions include: Did Travis, in fact, choose to end his life, or was he murdered? Who the hell was adult Shauna's lover, Adam (Peter Gadiot)? Is Taissa...possessed? Will adult Van (Lauren Ambrose) and Taissa reunite? Is anyone still looking for Javi? Did the survivors pull an Alive and *gulp* eat their teammates?
Who's to say if even one of these will be answered. Regardless, I'll be there on premiere night...with my Etsy-made Yellowjackets varsity jacket on.
Season 2 of Yellowjackets will be available to stream on March 24.