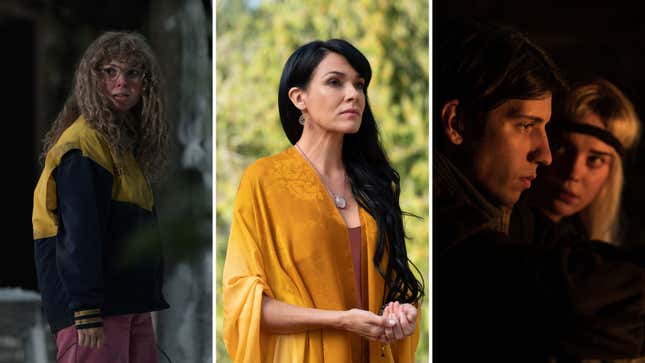 This recap contains a lot of spoilers for the first episode of Yellowjackets Season 2. You've been warned.

Olivia Holt Didn't Originally Get the Part of Roxie Hart in 'Chicago'
There's a reason Shauna slant-rhymes with trauma, and it arrives at the 18-minute mark in the season premiere of Yellowjackets' sophomore season. In one of the first scenes reuniting with our starved, squalid survivors back in 1998, we're immediately met by the disturbing image of pregnant protagonist (Sophie Nelisse) spending some quality time with her best friend, Jackie's (Ella Purnell) frozen corpse—which is now well past the three stages of rigor mortis.
Apparently, it simply wasn't enough for Shauna to suffer a life-altering plane crash with Jackie—after sleeping with her boyfriend, Jeff, and getting pregnant with his child—to establish a certain intimacy with her perished pal. No, she had to go full Norman Bates.
We quickly learn that Shauna is manifesting her guilt for her many transgressions by hallucinating that Jackie is still alive and able to have the conversations they absolutely should've had months earlier. It would be devastating if it weren't so unnerving—especially given that said heart-to-hearts are taking place in what the survivors have dubbed the "meat shed." At one point, Shauna imagines Jackie confronting her about why she made the first move on Jeff, and she shoves her. The impact [gulps] severs Jackie's ear and a very frantic Shauna decides the most logical thing to do is [gulps harder] pocket it. More on that later.
The others are concerned, and not just about their friend Dahmer. They're so low on food that they're rationing the rations. Natalie (Sophie Thatcher) and Travis (Kevin Alves) continue to search in vain for meat, and for Travis' younger brother, Javi, who's been missing since Doomcoming, and Mari (Alexa Barajas) is doing the best she can to feed the group—which is to say she's boiling twigs and herbs over water. Yum!
Meanwhile, Taissa (Jasmin Savoy Brown) now sleeps with her wrists bound to Van (Liv Hewson) in an attempt to stop her from sleepwalking and scarfing dirt—a secret they're keeping from everyone else; Lottie (Courtney Eaton) has gone full spiritual guru (a harbinger for present-day Lottie, portrayed by series newcomer, Simone Kessel, who appears to head up a cult); and Travis is experiencing panic attacks over what's become of Javi. Basically, everyone is going through it.
And, as to be expected, things are no better for the survivors in 2023. Taissa (Tawny Cypress)'s wife and child have moved out and, in a bid to win back her son's affections, she adopts a Yorkie named Steve. Unfortunately, it doesn't work. And now that Steve's around, she's now forced to reckon with the fact that she not only murdered the family's previous dog, but built an alter in their basement—and doesn't remember any of it. At the bitter end of Season 1, Nat (Juliette Lewis) was kidnapped by members of Lottie's cult and is now being held captive at a lakeside compound—which actually looks like a lovely place to find yourself, until she stumbles across the "ceremonial" burying alive of a naked man. She attempts to flee, but Lottie's promise of a message from a very deceased Travis (Andres Soto) is incentive enough to stay put.
Meanwhile, Misty (Christina Ricci) seems to be the only one concerned about both Nat's sudden disappearance and the potential consequences of Adam's (Peter Gadiot) murder. She's been scouring citizen detective boards, tracking those who might be investigating the latter's disappearance. Unfortunately, at least one user (whose voiceover sounds an awful lot like Elijah Wood, who's famously another new addition this season) somehow got ahold of Adam's bank records. Ope! Misty warns Shauna (Melanie Lynskey) who, for some truly unfathomable reason, is still hanging onto Adam's driver's license and keys. And before you can wonder if she's perhaps the worst murderer in history, she suddenly remembers Adam had an art studio—potentially full of incriminating evidence of their affair.
She and Jeff (Warren Kole) pay the space a visit—notably, without gloves or foot covers—and discover Shauna was basically Adam's muse. This would be awkward for the average married couple but because Shauna and Jeff have an, uh, complicated relationship, seeing Shauna through the artistic gaze of her murdered lover makes them both extremely horny. So much so that they fuck right then and there before destroying all of the paintings starring Shauna. Later, they burn a bunch of his belongings on the grill in their backyard and then, over dinner with their daughter, proceed to giggle over some hotdogs like the sociopaths they are. Their daughter, Callie (Sarah Desjardins), is rightfully suspicious and goes poking around the grill only to find...a part of Adam's license.
In case that wasn't enough twists and turns for this 55-minute plunge back into Yellowjackets, the final scene is a flashback to young Shauna—ready for it?—reaching into her pocket and popping Jackie's ear into her mouth. We're no longer flirting with cannibalism, folks. Apparently, we're going all the way in our murdered lover's art studio with it. As a Shauna-pologist, I have a suspicion that any empathy for her is going to be hard to maintain from here on out.