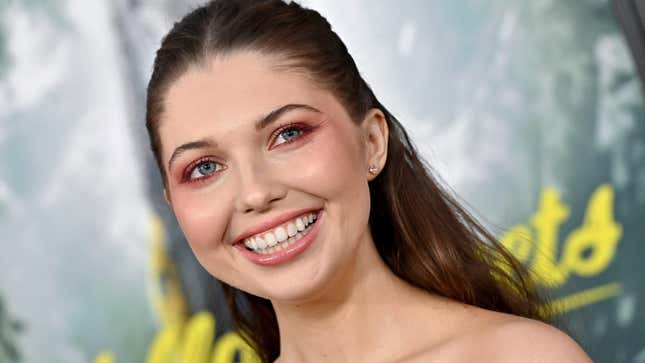 This interview contains spoilers for the second episode of Yellowjackets Season 2.

Taylor Lautner Doesn't Even Remember Saying 'Bella! Where the Hell Have You Been Loca?'
If you're tuning in to the second season of Yellowjackets, you likely know by now that Episode 2—aptly titled "Edible Complex"—saw our beleaguered soccer team fill their empty bellies (including one very pregnant one) with the fire-roasted flesh of their former captain and bestie, Jackie Taylor (Ella Purnell). And given the online discourse around said scene, you may also be aware that some of the cast actually vomited when it came time to film it. But at least one of the actors had a "great time" stuffing her face with jackfruit-as-Jackie's-body: Samantha Hanratty, aka the delightfully unhinged teen Misty.
Hanratty told Jezebel in a Zoom interview that, considering the season picks up as the girls are just barely weathering winter in the wilderness, it was really only a matter of time before the team got desperate enough to dine on one of their own. And by her account, Jackie is just an appetizer.
Our conversation has been lightly edited for length and clarity.
Well, the girls are...not starving anymore. What did you make of eating Jackie's body when you first read the script?

As a fan, I'm like, "It's about time! Let's get into it!" This isn't something we're waiting for in the season finale; you're getting it right away, which just shows you where we're going with this season and how crazy it's going to get. For me, I was thinking about Ella, like, "How is she doing? Is she okay?" I'm really happy that we got to have her come back to the show and be in a couple of episodes. I think that eating her was necessary. I think it needed to happen for Shauna and to save all of us, but more so to save Shauna and the baby. It needed to be shown as her decision.
What was the vibe on set the day it was filmed? I've read the cast had a range of reactions, including actual vomiting.
When we're doing these things, we kind of have to make light of the situation, because otherwise, our jobs are miserable. The stuff that Jackie was made out of was jackfruit, so of course, I've got to laugh and be like, it's "Jackie fruit." Like you have to have a good time, so we take pictures with the bodies and all of that. It's funny because it's actually easier for me to do scenes like that than scenes that show something I might have to go through in my normal day-to-day, like something that's actually emotional. Whereas that scene for me, personally, I feel like I have Misty mindset over here, you know? We're just going to eat it and have a great time.
I'm sure feigning hallucinations that you were Greek goddesses helped.
I loved doing the Greek goddess stuff. I think we really got to show where they're at mentally. Like, that's what they're feeling, what they're seeing, and what's going on in their heads, versus the reality of what Ben is seeing. That parallel really shows where the girls have gone to already.
Misty has finally found what seems like a true blue friend in Crystal [Nuha Jes Izman] this season. It's heartening to see something other than constant rejection for her.

Yeah! She has somebody actually pursuing her for the first time, so now it's opening up doors that she's never had open, and it's creating a place where I think she's stronger in who she is because of it. She has somebody to lean on and somebody to confide in and these are things that she's never had before. I think Nuha is such a fantastic actress, and she's become one of my closest friends in real life. She made the season so fun and so exciting and just every day, just goofy and fun, which is exactly what Misty and Crystal are. They are as goofy and fun and weird as can be. They're kind of made for each other, in a way.
Speaking of friends, the cast appears to have a strong rapport behind the scenes.
This is like family for me. We actually all went to Disneyland in the middle of filming. We had like one week off and we were like, "Let's go to Disneyland!" Everybody came to California and stayed at my apartment, and we went to Disneyland and it was just so fun to be little kids and play. We also do game nights all the time, and during filming, too, we were all watching Love Is Blind on lunch breaks. It's just a good time.
What are three words you'd use to describe the remainder of Season 2?
Loss, unexpected...oh my god [pause]...can't-look-away?