Year of the Clean Person is guided yearlong cleaning and organizing project; its focus is on tackling areas or tasks that are often overlooked in daily or weekly cleaning sprees and can be overwhelming when it comes time to rassle them back under control. This month, we'll be channeling all the good Spring Cleaning energy that April delivers unto us and whipping our bathrooms into wicked shape.
I hope everyone is feeling well-rested! March's YoCP task—making the bed every day—was a relatively easy, if terribly important, task; but brace yourself for April's assignment, because it's a biggie. Creating your dream bathroom can include replacing caulk and broken toilet seats; brightening up grout; washing the walls (YUP. We're gonna wash some walls, darn it!); installing better lighting; purging medicine cabinets and makeup drawers and under-sink areas. It's dirty, physical work. But having a bathroom that is clean and organized will be well worth your efforts.
Because the bathroom reclamation is such a beast, it's so important (so, so, so, so, so important) to do your advanced planning and to be realistic about how much you intend to do this month. It's way better to take on only one task and see it to completion than it is to say, "I'm gonna do everything!" and then do nothing or worse, start and then fail to complete, five separate projects. Because then you might make yourself feel bad, and that's a silly thing to do to yourself. The whole purpose of this year-long exercise is to guide you to making improvements in small measures, so that come December you can look back and say, "Wow, I accomplished a lot of home-related stuff this year and I can see a difference thanks to my efforts!" This is NOT meant to leave you feeling bad about things.
With that said, this month it's going to be especially important for you to begin your efforts with a list. I know! The dreaded list! But the list will help you hone in on the things that are the highest priority for you, allow you to take those things on first and then determine how many of the lower priority items you realistically feel like taking on. The list is also important because many of these tasks will require specialty tools, products and equipment; making the list will help you sort out what you need before you get going.
G/O Media may get a commission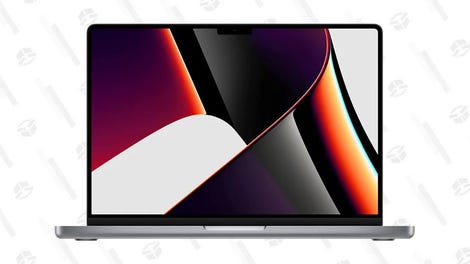 Save $300
2021 14" 1TB MacBook Pro
Because every bathroom ecosystem is different, this month I won't be giving you as many clear guided steps to complete the tasks involved in beautifying your bathroom as I did with February's bookshelf project. Instead, I've broken down the things you might decide to tackle and provided information to help support your endeavors. Got things on your mind/list that I didn't address here? Mention 'em in the comments, maybe someone can offer advice or a helpful link—you are all a great resource for one another!
Purge and clean medicine cabinet, under sink area, drawers
Maybe not all of them though. Maybe all of them?!? It really depends on how much time and patience you have for purging and organizing. I myself have never met an organization project I didn't love, but I know it can also be messy, dirty, frustrating work—especially the part where you have to dispose of things like that lipstick shade you spent too much money on and still never wear, the three differently sized round brushes you have that various hairstyles over the year have called for, those velcro rollers from the '90s.
But you know? Those things, if you're not using them, are taking up space and making your morning routine slower and more frustrating. They're getting in the way of the curling wand you pull out for fancy Saturday nights on the town. They've served their purpose—or in the case of that lipstick shade you spent too much money on and still never wear, have served no purpose at all other than to make you feel bad about a capricious purchase—so bear that in mind when it comes time to consider whether you want to hang onto them or not.
As with any kind of storage purge, the place to start is by taking everything out. Everrrrrrrything. Then clean out the drawer itself, or medicine cabinet, or the area under the sink. All-purpose spray and a sponge or paper towels should be all you need for this, but a Magic Eraser might also be handy. This is especially true for places in which you store makeup, which over time can leave behind stubborn stains.
Then go through your stuff, and don't be afraid to throw things away. It's going to be so worth the payoff!
Does Your Makeup Have a Shelf Life? How to Know When Your Beauty Products Expire | Allure
Makeup Organizing Checklist | Real Simple
8 Ways To Organize Your Beauty Products | The Glitter Guide
UHeart Organizing: "Makeup" a Beautiful Organization System! | IHeart Organizing
Get Your Hair Stuff In Chic Order | The Beauty Department
Want to know how you clean your makeup and hair brushes? Buy my book, it's all in there!
Make repairs and improvements, including lighting
Has the toilet roll holder broken? Drain all stopped up? Does your lighting sitch just totally blow? This is the month to get those things fixed up. Don't know where to start? Stepeth this way.
Have I ever mentioned to you how much I love This Old House? I totally love This Old House. So I'm going to direct you over there to find information on how to make small (or large!) repairs in the bathroom. I've also pulled out a few specific pieces that might be helpful for you.
Bathrooms | This Old House
How to Clear Any Clogged Drain | This Old House
How to Replace a Bathroom Faucet | This Old House
28 Ways to Refresh Your Bath on a Budget | This Old House
Got hard water? It's a beast, right? Here are some tips to counteract its ill-effects.
Hard water, no problem | Method Home
Lighting is one of those things that's generally an easy fix that makes a BIG impact on your space. And somehow we tend to forget about it? Should you feel like taking on a lighting upgrade, here are some helpful things for you to check out.
A Lesson in Bathroom Lighting | This Old House
Bathroom Lighting | HGTV
Style Guide: Bed & Bath Lighting Solutions | Southern Living
How to Improve Your Bathroom Lighting | the nest
Deep clean caulk and grout around tub and sink
Mold. Mildew. Serratia marcescens (the orange/pink stuff). It's there. It bugs you. If ever there was a time to deal with it, this is it. I've written about mold, mildew and the pink/orange stuff so I'll leave this here for you. But I've also rounded up a few other pieces for you to check out if you want to read up more on the subject (and who wouldn't?!)
3 Tips For a Mildew-Free Bathroom | Good Housekeeping
Clean and Remove Bathroom Mold & Mildew | Housekeeping Central
Or maybe it's just time to admit defeat and start fresh with new caulk?
How To Recaulk a Bathtub | Apartment Therapy
General Hard Clean
I've done a couple of posts on cleaning specific things in the bathroom, so let's start with those. Here are tips on cleaning toilets and shower. The second Q in this post addresses those pesky glass shower doors that so enjoy developing a scum skin. It seems like I should have written more for you on this topic by now, doesn't it? Hmm. I'll get on that.
But in the meantime, if the thing you're going to do this month is to simply (HA HA "SIMPLY" HA HA) hard clean the bathroom, here's an overview of what that might entail. I've put this together in the order in which I think you should take on each of these tasks to maximize your time and effort:
Vacuum or sweep the floors, before scrubbing or mopping them—you want to get up as much hair as you can while the floor is still dry.
Hard clean the sink, tub and toilet. Scrub or launder the shower curtain.
Wash walls and floors, including space behind the toilet.
Polish glass and chrome
Deep clean and brighten bath and hand towels, washcloths and bath mat
Maybe your towels and such just need some triage? In this'n here column I wrote about freshening up towels that have taken on a lingering odor; that same column also contains general information about brightening dingy whites, so if any of your bathroom linens need whitening, head there. The second Q in this column also addresses the matter of dingy towels. If you feel up to wading through instructions on how to eliminate testicular odor, your reward will be bath mat washing instructions.
Suggested Rewards
The sky is kind of the limit on this one—want a new lipstick to replace that lipstick shade you spent too much money on and still never wear? Get that. Did you reorganize your nail varnish? Treat yourself to a new organizing station. Did you replace the caulk? Buy yourself a bottle of champagne to celebrate! Or:
Replace worn out or stained bath and hand towels, washcloths and bath mat
Treat yourself to fancy bubble bath
Buy a new vanity mirror
Invest in a small handheld vacuum to control hairbleweeds


Image via Shutterstock.