Roughly a year and a half ago, Yahoo dot com hired Katie Couric to do some stuff for them. Since then, Couric has landed some high-profile interviews, which has apparently warranted her a pay bump from $6 million a year to $10 million a year, despite the lack of originality in her content or an indication that a lot of people are eagerly consuming it.
Recode reported the salary bump on Friday, and though Yahoo confirmed Couric would be staying on, they unsurprisingly wouldn't comment on her salary.
But as the Wall Street Journal reported in April, Couric's worth at Yahoo is debatable.
All told, Ms. Couric has generated about 118 million views at Yahoo since coming on full-time in June, growing each quarter. If each of these were attached to a video ad sold at the market rate for premium online video of between $15 to $25 per one-thousand views, according to media buyers, then those views have generated revenue equal to about half her salary. That doesn't count additional revenue from major sponsorships and a Snapchat deal.

Kathy Savitt, Yahoo's chief marketing officer, who also oversees Yahoo's content, disputes such back-of-the-envelope math. "We believe Katie's tenure at Yahoo has been accretive to our business, accretive to our users, and accretive to the overall Yahoo brand," she said.
Ms. Couric has shown some advertiser-wooing power, having brought in new advertisers like Merrill Edge financial services, which sponsored her "Now I Get It" explainer segment, and helps Yahoo sell ads beyond her own work.

"They are using her as a tent pole, and then packaging other media around it," said Adam Kasper, chief media officer of ad agency Havas Media.
The article goes on to note that, "For her interview subjects who aren't happy with just appearing on the Web, Yahoo and ABC have a deal that allows some of Ms. Couric's interviews to air on ABC News shows." Sharing video interviews is a common practice among news organizations, but it hardly speaks to the strength of Yahoo's platform, or the freshness of Couric's work there.
That's because Couric is still thinking and creating like she's in broadcast television. "Every day in television you are measured by your ratings the day before," Couric told the WSJ. "It results in a kind of cynical content, not necessarily driven by core values of journalism." That statement implies that content on the web is not measured by pageviews, and that the quality of Couric's work should make a focus on whether anyone is consuming it irrelevant.
G/O Media may get a commission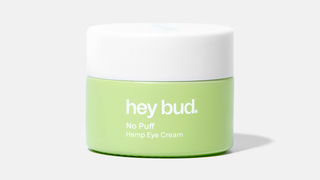 15% off
Hey Bud - No Puff Hemp Eye Cream
That's a strong argument; it's why deep investigative pieces often get hardly the traffic that quick videos do, and yet the investigative pieces are the ones that journalistic outlets are typically the most proud of. But is Couric really doing deep work? She's interviewing high-profile people, for sure: recent subjects include Rashida Jones, the woman who sued Abercrombie & Fitch for not hiring her because of her headscarf, and presidential hopeful Carly Fiorina.
But besides her interview with 7th Heaven's Stephen Collins, when has Couric broken news as Yahoo's "global news anchor," or done anything that she wasn't doing as a television host?
A strong argument for Couric's salary bump is that she is essentially being paid the same amount as her peers hosting morning shows and the evening news, as well she should, if we're assuming that news anchors like Matt Lauer, who makes $25 million a year, or Brian Williams, who is at $10 million (though for how much longer, that's hard to say) deserve to be paid that much. Among them, Couric's new salary is appropriate, and it's likely she negotiated hard for it, as she should have.
But whether it makes sense for Yahoo to keep her on is a whole other story. She was hired to, in Marissa Mayer's words, join Yahoo's "incredibly talented editorial team in pioneering a new chapter of digital journalism." But Couric's doing the same thing she's always done, which is probably why she's being paid the same to boot. Good for Couric, debatably good for Yahoo, boring for the rest of us.
---
Contact the author at dries@jezebel.com.

Image via Katie Couric