In a wonderful, wonderful demonstration of how the Internet Personal Essay Economy can go awry, xoJane ran a personal essay by a lady named Brenna Phares, about how she recovered from her painful breakup with the use of a "breakup box." Turns out Brenna works for the company she was writing about, which she didn't quite find time to mention!
The piece is in xoJane's always memorable Sex/Love section, and it does not, from the very headline down, sound like an ad at all:
A "breakup box" is a collection of products to help a lady get her groove back following the wrenching emotional turmoil of a relationship's end. Brenna didn't get very specific about her breakup, as you might expect from a personal essay, but she had a lot to say about that box, including clear, almost suspiciously specific instructions for how you can order one, as well as other wonderful products by the same company:
So there's this amazing little boutique called Rodéo Boutique, and they do this thing called "Rodéo Wrapped." It is a gift-giving dream come true. Basically they put these little themed boxes together filled with all kinds of pampering goodies and fun confetti! There are "Birthday Bae" boxes, "Beachin'" boxes, "Treat Yo Self" boxes, and last but not least, the "Too Good For Him Anyway" box. I had the pleasure of receiving this box right to my doorstep (yes, they ship anywhere in the continental U.S.), and its contents made my day. Actually, my week. Well it's been a few weeks now, and I'm still enjoying them.
G/O Media may get a commission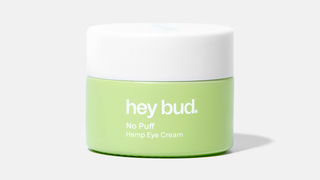 15% off
Hey Bud - No Puff Hemp Eye Cream
As xoJane's perpetually fed-up commentariat quickly noted, Brenna appears to be the marketing and web coordinator for the boutique she was writing about. Which would've been easily determined had anybody Googled her, since it's literally girlfriend's first result.
A xoJane staff member says that once the author's deception was discovered, the situation was passed up the chain, to which yet another commenter pointed out that, well, Brenna is actually Facebook friends with several xoJane editors:
The matter has evidently been settled with a very brief editor's note:
Well, OK! The Federal Trade Commission has fairly specific rules about sponsored content and native advertising.
Full disclosure: I wrote a personal essay for xoJane in 2013, for which I was paid $50. I am appropriately embarrassed about it, believe me.
---
Image via Shutterstock