On Thursday, the Wyoming state Senate failed to pass a bill that would have ended the use of the death penalty in the state. While some of the state's senators likely had the typical reasons for supporting the death penalty (tough on crime, blah blah blah), one woman, Republican Lynn Hutchings of Cheyenne, offered up a fairly unusual rationale: the death penalty is good, actually, because Jesus himself was given the death penalty. 

From the Casper Star-Tribune:
Sen. Lynn Hutchings, R-Cheyenne, argued that without the death penalty, Jesus Christ would not have been able to die to absolve the sins of mankind, and therefore capital punishment should be maintained.

"The greatest man who ever lived died via the death penalty for you and me," she said. "I'm grateful to him for our future hope because of this. Governments were instituted to execute justice. If it wasn't for Jesus dying via the death penalty, we would all have no hope."
This is certainly a creative way to spin the crucifixion of Jesus Christ, who I'm pretty sure would not be a supporter of the death penalty if he were alive today but I am no Biblical scholar like Lynn Hutchings so what do I know?
This is not the only time the Wyoming state senator has made some eyebrow-raising remarks this month. Hutchings, who touts herself on her Facebook page as "your only true Conservative, Christian, Pro-Life Candidate" (a former state rep, she won her Senate seat in 2018) also—surprise—is a raging homophobe. According to the group Wyoming Equality, on February 1, Hutchings met with a group of students from Cheyenne Central High School's Gay-Straight Alliance, who were there lobbying for a bill that would protect LGBT workers from discrimination, and allegedly compared gay sex to not only bestiality, but pedophilia. She's reported to have told the students, "If my sexual orientation was to have sex with all of the men in there and I had sex with all of the women in there and then they brought their children and I had sex with all of them and then brought their dogs in and I had sex with them, should I be protected for my sexual orientation?" 
G/O Media may get a commission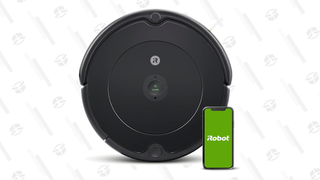 35% Off Black Friday Deal
iRobot Roomba 694 Robot Vacuum
Certainly makes you think?
Hutchings has denied making those comparisons, saying that she merely raised "rhetorical questions" to point out the "vagueness and subjectivity of the term 'sexual orientation,'" but that hasn't stopped the Wyoming Democratic Party from calling for her resignation. And she has made no secret of her beliefs in the past. In 2013, when she was a member of the House, she opposed a domestic partnership bill, telling those pushing for LGBT rights to "please stop carpet-bagging on our civil rights movement."
She continued:
Hutchings said being black is a result of genetics. "It is inborn," she said. "Science does not evidence a genetic involvement to homosexuality. It is but a choice. Being black is involuntary, it is not a choice. Homosexuals may choose who they want to be."

Hutchings said the gay lifestyle is harmful to the mind, spirit and body, noting the number of cases of AIDS.
What a peach.