Of all the annoying details one has to worry about while wedding planning, coming up with a wedding-day hashtag seems pretty low priority—something you could do in 15 minutes tops if you and your betrothed combine wits. Or you could pay someone like this woman who started a business for wedding hashtags. Her name is Carrie Bradshaw.

Kidding! It's Marielle Wakim, the arts and culture editor of Los Angeles magazine who recently launched Happily Ever Hashtagged as a service for the lazy brides- and husbands-to-be among us, after friends kept asking her to do their jobs for them. Wakim (you might remember her as the source of last year's asparagus watergate) admits, "This is either the best idea or the dumbest idea I've ever had."
Via The Cut:
Each client submits their names, the tone of the hashtag they want—"Funny, Sentimental, Simple, Clever, Anything is fine because I'm desperate"—and a survey that lets her know a little bit more about them. Her rates are $40 for a single hashtag and $85 for a set of three that the couple can choose from; Wakim also provides hashtags for other occasions, like wedding showers and bachelorette parties. She says her clients so far have all been millennials.

Examples of hashtags Wakim has personally handcrafted:
Maggie Gottlieb + Charlie Madsen
#CharMagweddon
Molly Goldbach + Chad Tempo
#MollyPicksUpTheTempo
Dana Sturtz + Ryan Hill
#ForeverlyHills
Paige Thomas + Chad Van Norman
#VanAndWife
Allison Begezda + Brett Smith
#SmithterAndMrs
Not to step on this smart business, but I will offer my services for a mere $20 per hashtag. Example: Tom Jones and Geri Lowell = #TomCaughtGeri.
G/O Media may get a commission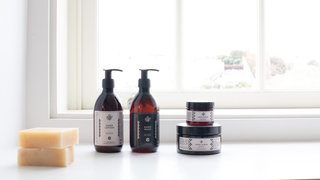 Exfoliate and Hydrate
The Handmade Soap Company