As protests mount across the UK in reaction to Trump's Muslim ban, a petition to prevent Trump from making an official state visit recently reached over 1.25 million signatures, many times over the amount needed to trigger a debate in Parliament. Although Downing Street confirmed that Prime Minister Theresa May would not be withdrawing the invitation, Foreign Secretary Boris Johnson—Boris Johnson—called Trump's Muslim ban "divisive and wrong" at an emergency Commons debate held Monday.
The debate was called by Conservative MP Nadhim Zahawi (who was, very ironically, pro-Brexit) with former Labour leader Ed Miliband, and it was, for the most part, a polite cacophony of outrage. Miliband, armed with a thick lisp and an even thicker head of lustrous salt and pepper hair, recited the poem inscribed on the Statue of Liberty and railed against the stupidity of Trump's executive order. "We cannot, in our keenness to get a trade deal, shrink from speaking truth to the most powerful man in the world," Miliband bellowed. (Here's a taste.)
"It's very hard to lecture other countries on their respect for human rights if the President of the United States is failing to do so," he correctly insisted.
Damn. Maybe I'm just in a dark place and grasping for straws right now—I'll note that I'm not normally into politicians, or men who collect a lot of saliva when they talk—but Ed Miliband... I don't know, man. How do my colleagues feel?
Kate Dries: Would not. God I love their chairs.
Stassa Edwards: Probably would both of the Miliband brothers?
Kara Brown: Sure. I like his hair.
Bobby Finger: Yeah same Kara. Would.
Bobby: I'd call him Mr. Sheffield in a nasally voice. And he'd be like "what're you talking about?"
G/O Media may get a commission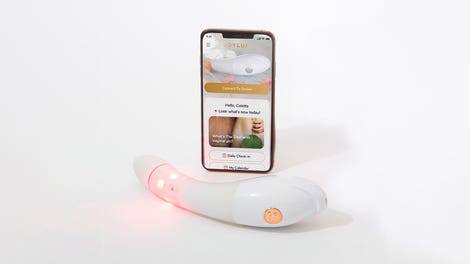 $50 Off
Joylux vFit Gold Device
Clover Hope: I guess I would.
A subdued but definitive showing in favor of Mr. Miliband (and Stassa brings up a good point about David Miliband, a separate, also good-looking Miliband). And you? Where do you stand on this issue?

Last time on Would U?, we asked: Would you have sex with the Naked Cowboy? 75.7% answered "No, #NeverCowboy"; 8.6% answered "Probably, but I wouldn't tell anyone"; 6.5% answered "Yes, if he promised to trip Anthony Scaramucci in front of the press pool and only play songs about climate change"; 3.65% answered "Yes, if I could blog about it afterwards"; 3.5% said "Yes, with enthusiasm"; and 2% answered "Yes, if he had an AeroPress."