Two decades after the last Playboy Clubs closed in the U.S., the company has plans to bring them back, starting with a location on West 42nd Street in New York City, aka the tourist capital of America.

Those paying attention to Playboy Enterprises's recent moves should not be surprised by this retro and/or archaic choice (depending on your perspective, of course). The company has opened several Playboy Clubs in the past few years, though they've all been overseas: London, Hanoi, three in India, and Shanghai is coming. Per a statement from a spokesperson to the Associated Press, the New York location (which will have both a lounge and restaurant with a hotel attached to it) "will be one of the most chic and sophisticated venues in the world." And yes, there will be bunnies—with "updated outfits." From a press release on the Club, which will open later this year:
The space will feature a lounge area, a game room and a full-service dining room, but by far the most attractive feature of Playboy Club New York will undoubtedly be the return of the Playboy Bunnies to Manhattan. The alluring Playboy Bunny hostesses, waitresses and cocktail servers have a worldwide, well-deserved reputation for their style and graciousness. The décor will feature elements from the sexy and sophisticated aesthetic of Playboy's rich history integrated with the energy of New York, one of the world's most exciting destinations.
This is an interesting take on the club's most famous attribute: its women. It's unlikely I have to remind you of Gloria Steinem's historic infiltration of the Playboy Club in New York titled "A Bunny's Tale," in which she outlined the very strict rules Bunnies were subjected to, low pay they received, and painful garb they wore. Steinem's account was responded to and fleshed out by former Bunny Kathryn Lee Scott's The Bunny Years several decades letter; it featured interviews from hundreds of her former colleagues, many of whom loved the job, despite its difficulties. Scott was particularly annoyed by the piece:
The reaction of Steinem's co-workers at the Club to her exaggerated "insider" exposé was more or less "Good for her." After all, we couldn't quibble with her portrayal of the work as strenuous, the hours long and the costumes tight. But on a personal level, there was a feeling of betrayal, even hurt. How could Steinem, posing as a Bunny, talk to us, work among us, observe us and then profile us in such a condescending manner? A good many of her coworkers were every bit as ambitious as she was to get on with their careers. None of the women I knew anticipated collecting her first Social Security check upon mothballing her Bunny costume.
G/O Media may get a commission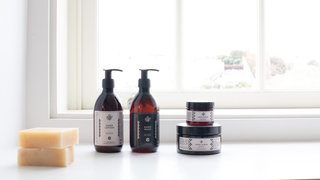 Exfoliate and Hydrate
The Handmade Soap Company
The first Playboy Club launched in 1960 in Chicago, and over the years there grew to be more than 15 clubs in the U.S. alone, whether owned directly by Playboy or franchised. The last died out in 1986, as the company was struggling with relevancy. From an AP report:
The clubs, which once provided 40 percent of Playboy revenue, made up just 5 percent of 1984 revenues. The company in May reported a third-quarter loss of $3.2 million on $42.8 million in revenues. The loss was attributed mainly to the poor performance of the club division.
The last one outside the U.S. (in Manila) closed a few years later, and again, the "new direction" of the company was cited.
Hotel officials said the club, boasting a panoramic view of Manila Bay, was still making money, thanks to its 1,000 members, but Playboy Club International head office refused to extend the franchise because of a new corporate direction.
Playboy Enterprises has flipped and flopped all over the place over the past several decades, trying to crawl back to their dominance as the brand for men. Several years ago, they decided they wanted to focus on having a retro-cool aesthetic, which has of course evolved somewhat; Hugh Hefner's son Cooper, the Chief Creative Officer of the company, has brought his start-up Hop under their umbrella, which appears to be focused on throwing parties that are sort of old school, but with a twist, like speakeasy night.
In any case, as it continues to align itself with "class," Playboy is doing what a lot of companies are trying to do, which is to attempt to make money off experiences. It's interesting that they expanded back into the Clubs overseas first, where the brand has more cachet and less fraught history attached to it; for instance, the London Club has done things like host a fashion show with Playboy Bunny outfits throughout the years, ending with one designed by Marchesa:
We can all probably imagine what an "updated" Playboy Club—and its Bunnies—will look like: to put it bluntly, a slightly fancier Hooters, which basically means a bottle girl at a Vegas Club. Which is fine, it's just not reinventing the wheel unless the new Playboy Club Bunnies will somehow be able to break down the power dynamic that automatically exists in service jobs that demand women look a certain way. What will remain though, of course, is their "style and graciousness" in the face of it all.