Celebrity fragrances made $353.6 million in sales last year, but one major star didn't get a slice of that pie: Madonna. She's just about to ink a $120 million deal with Live Nation, and they'll have the right to license the singer's name for all kinds of merchandising projects, including fragrance, reports WWD. Apparently, Madonna has shopped herself around the fragrance industry for more than a decade. But this could be the right time, and the right deal. And industry insiders say that If Madonna does associate herself with a scent, it could be huge. "A Madonna scent would make sense," said Art Spiro, president of Liz Claiborne Cosmetics (which just released the Usher fragrance). "She is an internationally known celebrity who has appeal to a wide cross-section of demographic and cultural markets. It could be an interesting opportunity for someone."
Betsy Olum, senior vice president of marketing at Sephora, says, "She is such an inspiration, and I would inevitably buy her fragrance — however, it would really need a revolutionary new angle to it. If anyone can do this, she can. Madonna is the master of reinvention. The fragrance could help the celebrity fragrance industry in that respect."
On the other hand, Madonna is not known for being easy to work with. Patrick Bousquet-Chavanne, a group president of the Estée Lauder Cos. Inc., warns that licensing deals "take a meeting of minds and she is probably more demanding than most." Also, do people care about Madonna the way they once did? "She has most of her career behind her," Bousquet-Chavanne notes, but "she has a universality to her and a timelessness."
Plus, the celebrity fragrance market may be oversaturated... and fatigued. And Madonna is not exactly red-hot at the moment. Neil Katz, CEO of Parlux Fragrances, which markets the Paris Hilton scent, says, "Years ago, she could sell fragrance. But I don't know if at this point in her career, she still has that strong a following. I don't know." Madonna's music has been around for 25 years and she is known in countries around the world — is having her own fragrance on the market even something she needs to do? And even if she had the best concept, amazing packaging, stunning, avant-garde ad campaigns and a truly seductive, wonderful scent, would it just seem like the once-innovator was late to the game?
G/O Media may get a commission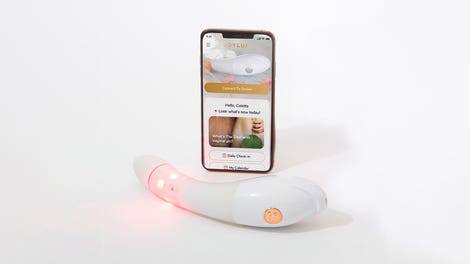 $50 Off
Joylux vFit Gold Device
Marketing Madonna: Industry Mulls Prospect Of Pop Star Fragrance [WWD]