Much unlike many a magazine editor who recommends you buy all sorts of crap that they most likely got for free, your Jezebel staff doesn't get jack shit (other than books, unsolicited). And that's how it should be. But on our own time, in our personal lives, we still buy stuff. Thus we're introducing Worth It, a daily recommendation of random things that we've actually spent our own money on. These are the things we buy regularly or really like, things we'd actually tell our friends about. And now we're telling you.
I actually came across iS Clinical Active Serum (ridiculous capitalization original) in a goodie bag at a fashion show, but a) said goodie bag wasn't actually intended for my paws, as I was a mere model working for trade and not a guest and b) I've since bought the stuff for myself many times over, so I think I'm on the right side of our no-shilling policy. I also mention this because, well, there's no way around it — this stuff is pricey. But hear me out: iS Clinical is hands-down the best skincare product I've ever used. And I have tried a great many of them.
I have your classic combination skin — prone to being flaky in certain places, oily in others, and breakout-prone all over. My acne never merited Roaccutane or anything like that, but when I turned 18, I started getting big, painful zits on my cheeks that would sometimes take weeks to clear. Weeks. I'm fairly certain I've tried just about every skincare product combination known to man: Clinique and its three steps, Proactiv and its three-monthly automatic billing cycle, Cetaphil, something Icelandic called Skyn, Dr. Bronner's, Estée Lauder Idealist Skin Refinisher, and home-mixed tea tree+olive+castor oil, which I administered according to the oil cleansing method, to name a few. Benzoyl peroxide this, salicylic acid that, hyaluronic acid over here, Clearasil, Johnson & Johnson, Neutrogena. I tried fucking Crème de la Mer. You know what? It sucked! I was that girl with the a million half-empty department-store samples in her dop kit (ooh, let's try that thing Cate Blanchett endorses! Have you seen Cate Blanchett?) and still I had pimples to show for it. (The Idealist came the closest to meeting my needs until I found iS Clinical, which — though not cheap — is cheaper per application and gets better results.)
So, since September of 2008, after I wash my face at night, I've put a few drops of iS Clinical Active Serum on my skin and rubbed it in. And that's the end of my routine. iS Clinical is so gentle and non-drying that I really don't need a moisturizer, except in winter, sometimes. The serum tingles at first, which feels nice. Then it goes to work healing any zits I may have, preventing the formation of new ones, and making my skin generally pretty and soft. I've gone from weekly outbreaks to getting one or two much smaller pimples once a month. (Oh, hormones!) And I can put a drop of Active Serum on an angry, red zit at night, and by morning, all that will remain is a faint pink mark on a patch of smooth skin. It. Is. Magic. I have never experienced any product that works so quickly and effectively. When I started using it, it cleared up the hyperpigmentation that had resulted from my previous acne outbreaks in less than a month. And I have heard that if one stays out 'til dawn drinking and whatnot, but remembers to wash one's face and slap some of this on before crawling into bed, then by the time one awakes the inside of one's mouth may feel like a Dorito-gorging rat curled up and died inside an old sneaker that fell in a sewer that was washed into a fetid pond, but one's skin will still look nice and fresh and glow-y.
Exfoliating my face has also never been easier; it feels like the dead skin just dissolves away. And the new skin underneath looks better than it by rights should. I don't know what's in this stuff (I mean, I do, but what the fuck is "kojic acid" anyway?), I do know you're supposed to go to the dermatologist or some shit to get it (I buy it online, in bulk), and I also know that the iS Clinical Poly-Vitamin Serum, which someone once shipped me "by accident," is totally worthless for acne (seriously, don't even bother). (Although if you do use Poly-Vitamin Serum and like it, I now have some. Reasonable prices, inquire within! I am not kidding.) It's not cheap. It's on Amazon for like $100 or some shit, which is insane! I've never paid that much for this. Shop around. By scouring eBay, I paid $30 for .63 fl. oz. last time I bought it, which is still a lot, but a) I would pay almost anything to have skin this good and b) that supply will last me around 3-4 months, because you only need a couple drops. The stuff just works. That's all.
G/O Media may get a commission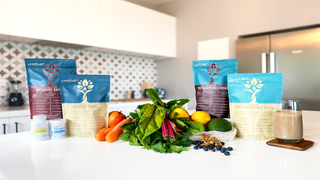 iS Clinical Active Serum, $96.50 for 1 oz. at Amazon.com.
Worth It only features things we paid for ourselves and actually like. Don't send us stuff.