Much unlike many a magazine editor who recommends you buy all sorts of crap that they most likely got for free, your Jezebel staff doesn't get jack shit (other than books, unsolicited). And that's how it should be. But on our own time, in our personal lives, we still buy stuff. So this is Worth It, our daily recommendation of random things that we've actually spent our own money on. These are the things we buy regularly or really like, things we'd actually tell our friends about. And now we're telling you.
My hometown is in rural northwestern Wisconsin, 80 or so miles due south of Duluth, Minnesota and about 90 miles northeast of the Twin Cities. As of the 2000 census, there were 1,262 people who lived there. My high school football team didn't win any games my junior or senior year. Aside from the occasional watercross debacle or impromptu mudding competition, people up north keep to themselves, and there's not a whole lot up there unless you like deciduous forests, ice fishing, deer hunting, having Sean from The Real World: Boston as your Congressmen, and terrible cell phone reception.
But there is one thing we do up north that never fails to impress: cheese. Specifically, cheeses from the Burnett Dairy Co-Op's cheese store in Alpha, Wisconsin. And now, thanks to the internet, I can order them by mail. This is going to be the best Christmas ever.
Burnett Dairy co-op takes in milk from local area farmers and, using magic, makes it into some of the most fantastic cheese your mind could imagine. The sharp cheddar is sublime; the mild cheddar is perfect. My favorite is the wimpy and non smelly but heavenly textured Co-Jack, but the dairy has won awards for its excellent string cheeses, provolone, and mozzarella (put their mozzarella on a pizza and it will change your life). And if you have never experienced the ecstasy of eating a cheese curd so fresh that it actually squeaks, I recommend you remedy that immediately. Despite the presence of the words "curd" and "squeak" in the description, I swear it's not gross.
Part of my love of Fancy brand hard cheeses probably stems from the fact that the taste of it is nostalgic; the Dairy employed my father when he was a teenager. Friends and relatives who raised dairy cows sold their milk here. Every time I've come home from college or my post collegiate hometown of Chicago, I've made every effort to stop by the cheese store to grab some delicious blocks of wonder.
G/O Media may get a commission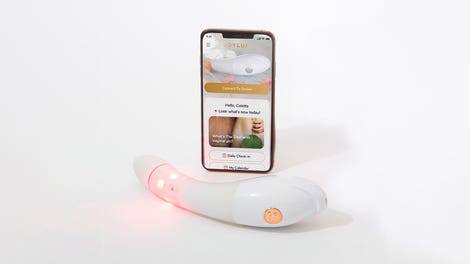 $50 Off
Joylux vFit Gold Device
I'm an enthusiastic giver of Christmas presents, and a box of Burnett Dairy cheese sent to far-flung loved ones has never failed to be both welcomed and eagerly consumed. You can design your own gift box, including varieties you think the recipients would enjoy. You can even have them throw some summer sausage in there.
Everyone who is not lactose intolerant loves cheese, and no one does good old fashioned cheese like Burnett Dairy.
Gift Box 4, $15.25 for 3 lbs of cheese at Burnett Dairy.
Worth It only features things we paid for ourselves and actually like. Don't send us stuff.