Much unlike many a magazine editor who recommends you buy all sorts of crap that they most likely got for free, your Jezebel staff doesn't get jack shit (other than books, unsolicited). And that's how it should be. But on our own time, in our personal lives, we still buy stuff. So this is Worth It, our recommendation of random things that we've actually spent our own money on. These are the things we buy regularly or really like, things we'd actually tell our friends about. And now we're telling you.

First, let's get this out of the way: yes, it looks like a dildo.
But it isn't. It's a curling iron without a clamp. And it's going to make your life (well, your hair, at least) so much more manageable.
When I was a freshman in college, my dormmate taught me that the best way to achieve the curls I wanted (mermaidy, not corkscrew) was to ignore the clamp on my iron and wrap one-inch sections of hair around the entire barrel, spiral-like, and hold for a few seconds before letting it flow down. I have long, wavy hair to begin with, but it's straighter in some places than others; just 5-10 minutes using this method and I look like I deserve a walk-on part on The Hills. (Say what you want about Lauren Conrad, but she's got the waves down.)
I didn't know clampless curling irons existed until I was an intern at Jane in 2007 and we got to raid the makeup closet the very traumatizing day we found out it folded. I took this Enzo Milano curling iron and I still have it, 6 years later. Which I think makes it definitely Worth It, even though it's pricey; I probably wouldn't have purchased it full price. But you can get clampless curling irons for way cheaper, too; here's one for $30!
G/O Media may get a commission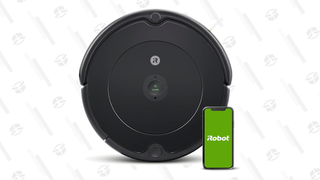 35% Off Black Friday Deal
iRobot Roomba 694 Robot Vacuum
Now, you'll never be the girl who didn't go to Paris.
Enzo Milano curling iron, $119.95 at StyleBelle.

Worth It only features things we paid for ourselves and actually like. Don't send us stuff. To see all previous Worth It columns, click here.