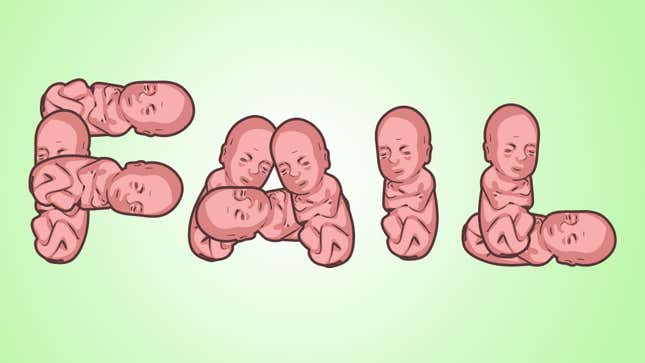 Want a squishy toy fetus with your corn dog? If you're visiting the North Dakota State Fair, you're in luck! Last weekend, local anti-choice advocates slipped soft fetal models into kids' candy bags without parental permission during the fair's gigantic parade. "I don't know exactly where I stand on abortion," one mother told Jezebel, "but I believe in my rights as a parent."
The North Dakota State Fair boasts a bevy of attractions, including performances by Tim McGraw and Creedence Clearwater Revisited. But Minot Right to Life spent the weekend giving away creepy little fetuses to kids without asking parents' permission first. "It was really disturbing watching children run around with them," one recalled. A federal judge recently temporarily blocked enforcement of the state's highly unconstitutional six-week abortion ban; perhaps appealing to elementary schoolers' interests is the group's Plan B?
"The Precious One" fetal models are manufactured by Heritage House, a "pro-life supply store," for $1.50 a pop — cheaper if you buy in bulk. "Its beautiful detail, softness and weight can really move hearts and change minds!" the website promises. A customer service representative told Jezebel that the models are most often given to pregnant women at "pregnancy centers" and kids at school presentations. The customer reviews on the site (it's like Yelp for fetus-lovers instead of foodies) further imply that the doll-like figures are great for kids. "Children especially like to hold them," one satisfied customer wrote. "No other item that we hand out has the amazing effect that these fetal models have — instant attachment to the unborn!" said another. "So many times, we hear, 'Awwwww! That's adorable!' Or we just see a girl's tears begin to form and fall."
Amber Mendez, a mother of three who attended Saturday's parade, was likewise affected by the "Precious Ones" she found in the candy bags her kids got for free during the event. "They're so lifelike," she said in a phone interview. "I'm squeezing it. It's fleshy."
Mendez says she's "in the middle" when it comes to abortion, but feels that her rights as a parent were compromised at the parade when her children were handed the fetuses along with informational pamphlets that included lines like "Week 1: conception; the baby is smaller than a grain of sugar, but the instructions are present for all that this person will ever become."
"My kids can read," she said. "I shouldn't have to explain to five and six-year olds what abortion is at a family event. I doubt these people would be allowed to hand out condoms to little kids. But it's okay to talk to them about abortion without my permission?"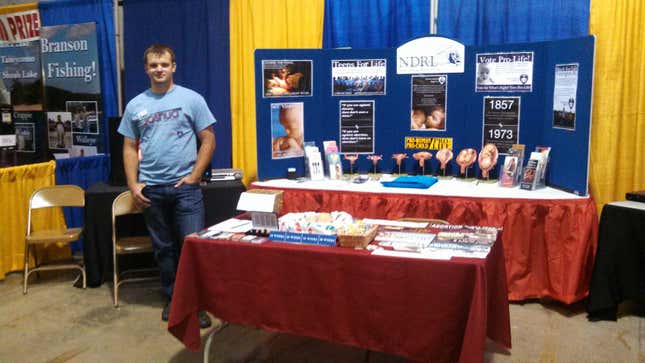 Multiple pro-choicer fairgoers told us they called the State Fair's hotline to complain about the fetal models and were told the fair was "looking into" the issue; when we called, the fair organizers declined to comment.
Devyn Nelson, Executive Director of North Dakota Right to Life, said he hadn't been contacted by organizers and claimed that the booth ran out of "Precious Ones" because there was such a high demand for the mini fetuses. "Kids like them, but adults like them too," he said. "They have nothing to do with abortion. You don't have to bring abortion up at all."
Dr. Anne Davis, associate professor of clinical obstetrics and gynecology at Columbia University Medical Center in New York City and consulting medical director at Physicians for Reproductive Health, said she was less concerned with the florid but "not grossly inaccurate" descriptions of fetal development in the accompanying pamphlet than the implication that women aren't aware that pregnancy ends with a baby. Anti-choicers love fetal models because "they think people will be horrified if they know what's really going on in there," she said, "but that's simply not true." Davis said it was "creepy and inappropriate" to slip snuggly fetuses into kids' candy bags, but she doubted children would understand or care about what they represent.
Their parents care, though. "I believe in free speech, but this isn't about that," Mendez said. "My six-year-old took one look at the thing in her candy bag and said, 'That's a baby!'"
Image by Sam Woolley