A Las Vegas woman is accused of plotting to burn down her pet store, with the intention of killing all 27 puppies inside.
We have a new contender for biggest asshole of 2014, everyone.
[Gloria Eun Hye ]Lee and accomplice Kirk Bills, 27, each face 31 criminal charges including first-degree arson, conspiracy and burglary as well as 27 counts of attempted cruelty to animals - one count for each puppy that might have died. If convicted, both stand to face decades in prison.
This morning Lee made her first court appearance in a Clark County, Nevada courtroom to face those charges. A huge crowd of protestors was there to greet her, too.
Armed marshals ushered one protester out of the Clark County Regional Justice Center after she confronted store owner [Lee] with angry words and called her despicable. The protester left the building voluntarily and wasn't charged with a crime.
"When you intentionally attempt to burn to death 27 puppies, what do you expect?" said Gina Greisen, head of Nevada Voters for Animals, an advocacy group.
G/O Media may get a commission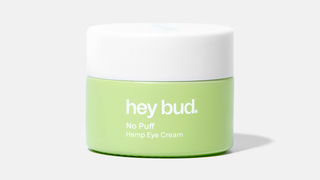 15% off
Hey Bud - No Puff Hemp Eye Cream
Lee stands accused of plotting to set a fire that broke out at her store, Prince and Princess on Jan. 27. Luckily, firefighters got there in time and managed to save all of the puppies. (YAY FIREFIGHTERS YAY!!!!) The puppies are now with a local animal shelter.
Surveillance footage captured the entire crime, apparently:
In the video, Bills is seen carrying red gasoline cans when Lee lets him into the Prince and Princess pet shop around 1am on January 27. Bills dumps the gasoline around the store and puppy kennels while Lee collects files from the office and takes out the empty gas canisters. The two leave through the back door after Bills lights newspapers and starts a fire spreading through the shop.
The judge that Lee went before today let her remain free on $20,000 bail and put her on house arrest. He acknowledged that emotions were running high. (Yeah, you think?) Lee had to leave out of the back entrance of the court, because GODFORBID she should have to face a crowd of angry people who don't like the idea of someone trying to kill puppies by burning them to death.
Her defense attorney certainly wasn't too happy about the protestors, either!
"I would hope the concern that's shown here could be shown for the homeless, the helpless, the hungry," Tom Pitaro said, "Instead of yelling and shouting vile comments."
Well, if he didn't like the protestors comments outside, he certainly won't like what the prosecutor in the case has to say.
"I can presume she's going to go to prison for this," prosecutor Shannon Clowers said during Lee's court appearance. "This is absolutely, 100 percent egregious."
Her alleged accomplice, Bills, has an outstanding arrest warrant. The AP was not able to reach him for comment.

Image via AP