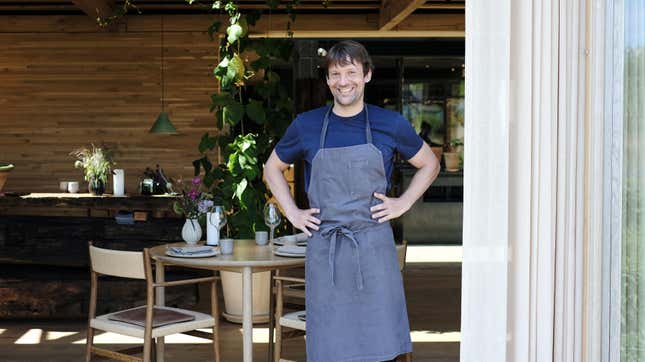 Noma, one of the world's most esteemed restaurants, will serve its final-final course—perhaps a goat milk cheese curd laid upon a bed of fermented moss—in late 2024. Today, founder and chef René Redzepi announced in the New York Times that after 20 years of business, his Danish three-star Michelin restaurant plans to transition to Noma Projects, the company's e-commerce branch. The reason? Treating workers like human beings isn't a very sustainable business model, claims Redzepi. Hm, sounds foreboding for the restaurant industry at large.
A Game of "Odds and Ends" with Stephanie Hsu
A dinner at Noma, famous for its curious and esoteric culinary feats like barbecued quail egg wrapped in preserved garlic or caramelized bee larvae, costs guests about $500 before even adding a wine pairing. But what is apparently more costly than the food is the mental and emotional toll of working at such a high, backbreaking level. "Financially and emotionally, as an employer and as a human being, it just doesn't work." Mr. Redzepi told the Times. "The problem is how to pay [the employees] enough to afford children, a car and a house in the suburbs."

Redzepi, who is somewhat of a food-god in the restaurant world, has been accused of (and has admitted to) bullying, verbal abuse, and creating an all around rotten work environment at Noma. It's the sort of behavior that legions of chefs, businessmen, producers, and artists with any sort of power and influence love to perpetrate. But there has been in recent years a rousing movement of people basically being like, "No, chef!," and perhaps Redzepi is finally listening to that. He claims that Noma isn't shutting down due to costs, but just in October of this year the business added $50,000 to its monthly labor costs when it started paying its interns. I guess they had just been there for the love of shaping fruit leather into beetles?
Not only were the interns not being paid, but one, Namrata Hegde, told the Times that interns were "required to work in silence" and "forbidden to laugh." Imagine not being able to laugh in a space that serves "two-year-old carrots and duck brains."
Ultimately, it's disheartening that the apex of culinary experience requires a system of abuse and exploitation to maintain itself. It leaves, and excuse my pun, a bad taste in my mouth that Redzepi feels that rather than simply trying to improve the situation, it just makes more sense to shut it all down. But, to misquote Kate Moss, nothing tastes as good as workers being adequately compensated for their labor feels. So, Noma, I bid you adieu. I hope when you close that the unused two-year-old carrots and duck brains don't go to waste.