The hits keep coming for One Direction fans. First Zayn Malik quits the band and now it's looking like Harry Styles, that Elven prince with magic tears of crystal, might be looking for an out, too.
According to E! Online:
...An insider tells us that "Harry has told his friends that the wants to get into acting. He loves Los Angeles."
Having already ventured into song writing (he's penned songs for Ariana Grande and Meghan Trainor), he'd also like to pursue more solo music projects.
A second source adds that "Harry has distanced himself from the rest of the band over the last year."

"He considers himself to be on a different path to the other boys," the insider further explained.

"He certainly has hopes of doing solo stuff, branching out on his own, and so this might be the natural juncture in which to do that."
G/O Media may get a commission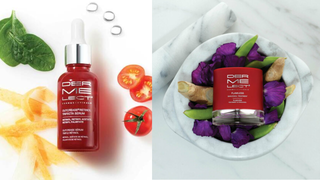 Save $19
Retinol Renewal Kit
"A different path to the other boys" is code for "I will be the successful one," right?
Presenting a united front, Harry and the rest of One Direction have all made comments about Zayn's departure via Twitter.
---
Whatever you do, do not ask Cate Blanchett about the fucking cat she had to act with in Cinderella. When reporter Jonathan Hyla made the mistake of asking how she got the cat to cooperate on a leash, Blanchett replied, "That's your question? That's your f—king question?" and (good-naturedly) dismissed him with an awkward handshake/high five.
Hyla wasn't mad, though. "Thanks to my new favorite person Cate Blanchett for what might have been the best worst interview I've ever done," he wrote on Instagram. [US Weekly]
---
Drew Barrymore on her body post-child birth: "After making two babies, holy cow, does your body do some crazy stuff! It's hard to stay positive and love yourself. You feel like a kangaroo with a giant pouch; everything's saggy and weird."
What does she do to make herself feel better? "I exercise, read Dr. Seuss's Oh, the Places You'll Go!, and spend time with my kids. Then I start to see things that are bigger than myself." [Glamour via People]
---
Photos via Getty.