WASHINGTON, D.C. – Whether it was a counter-protest or just bad timing is unclear, but in either case, the "Trump Unity Bridge," a makeshift parade float carrying Trump supporters, towed behind a Suburban with "Congressional Guest" and "Governor Guest" signs on the dashboard, was not welcome at the Women's March on Washington when it encountered hundreds of Women's Marchers just North of the White House this afternoon.
"I'm doing this for my children, my grandchildren and every American out there," Rob Cortis, the Michigan man who drove the Trump Unity Bridge to the nation's capital, told WUSA9 this week. "I want to unite everybody because as a team we're stronger together." Also: "My favorite reaction is if somebody's against Trump and they turn towards us and they smile and they shake their head, it's like 'all right he's our President, we just got to get along.'"

That is not the reaction Cortis received:
Women's Marchers came upon the "bridge" after it became clear that too many people had shown up to have a formal march to the White House; surplus demonstrators began marching through the downtown streets without any particular endpoint in mind. "Shame! Shame!" they shouted at the people on the Unity Bridge. "Love / not hate / that's what makes America great," they chanted.
Eventually, police forced the Women's Marchers far enough back for the truck to reverse into an intersection and escape up 14th Street NW. "Na na na na," they sang with a sneer. "Na na na na / hey hey hey / Goodbye." Nearby, according to the New York Times, Sheriff David Clarke watched the scene unfold.

G/O Media may get a commission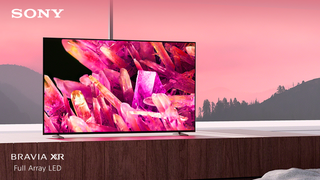 $400 off
Sony 55 Inch 4K Ultra HD TV X90K Series
Meanwhile, as hundreds of tired demonstrators headed home, Sunsara Taylor stood on a cardboard box in the middle of the street, delivering her pitch for Refuse Fascism. "Don't let this mood dissipate," she urged. "Will this be one day? Or will this be the beginning? It's up to us."