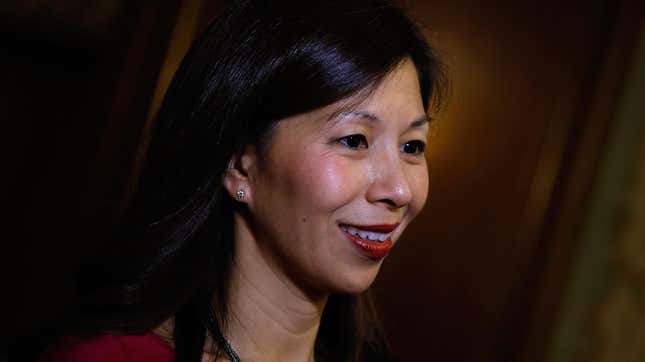 The Smithsonian Institution announced in March—Women's History Month—that Nancy Yao would be the founding director of its forthcoming American Women's History Museum, which is set to have a prestigious home on the National Mall or alongside the Tidal Basin in Washington, D.C., when it opens in roughly a decade. A month later, the Washington Post reported that Yao's position was being reconsidered after it came to light that she allegedly fired three employees at the New York museum she previously led (the Museum of Chinese in America, or MOCA) in retaliation for making sexual harassment claims on behalf of young female staffers. (All three whistleblowers were fired; all three wrongful termination lawsuits were settled; two of the men accused of sexual misconduct kept their jobs at MOCA, and Yao promoted one of them, according to the Post.)
Her start date at the women's museum was delayed for months until, on Wednesday afternoon, she officially withdrew from the position, citing only "family issues that require her attention," in a statement to the Post. Melanie Adams, director of the Anacostia Community Museum, will serve as interim director until the Smithsonian finds a permanent replacement for Yao.
Former Washington Post reporter Felicia Somnez—who was fired last year after calling attention to a colleague's sexist retweet—pointed out Wednesday that Yao's resignation came one day after David Adjaye, lead designer of the Smithsonian National Museum of African American History and Culture, was also accused of sexual assault.
Per the New York Times:
David Adjaye, the acclaimed Ghanaian British architect who designed the Smithsonian's National Museum of African American History and Culture, in Washington, D.C., stepped back from a number of roles Tuesday after The Financial Times reported that three former employees had accused him of sexual harassment and misconduct.

Mr. Adjaye resigned as an architectural adviser to the mayor of London, and his work on a British Holocaust memorial was suspended after The Financial Times reported that three women, who were not named, had "accused him and his firm of different forms of exploitation — from alleged sexual assault and sexual harassment by him to a toxic work culture — that have gone unchecked for years."

In a statement on Tuesday, Mr. Adjaye denied the accusations. "I absolutely reject any claims of sexual misconduct, abuse or criminal wrongdoing," he said in the statement, which was released by Kendal Advisory, a communications and crisis management firm. "These allegations are untrue, distressing for me and my family and run counter to everything I stand for."
It's possible that the timing of Yao's announcement is a coincidence. It's also very possible that the accusations against Adjaye were the straw that broke the Smithsonian's proverbial back, in terms of negative attention regarding sexual misconduct claims. In any case, it's certainly not a good look to have a woman running the American Women's History Museum who does not appear to be an ally to women.
Yao told the Post, regarding her history handling sexual harassment claims, that "any allegations can be made without proof" and described the settlements as "nuisance agreements." She also claimed that she only terminated the whistleblowers due to "severe budget pressures."
I suppose we are left to make up our minds about what happened.