There's a lot of women responsible for the steps we've taken towards women's equality, but Women's Equality Day was first proposed as a bill by New York Democrat Bella Abzug. Unlike National Hot Dog Day or National Sunscreen Day, it actually means something.
Time marks the occasion with a piece on the day's origins and specifically Abzug's long career. She was in congress for six years, and in 1971 she co-founded the National Women's Political Caucus alongside Shirley Chisholm, Gloria Steinem, and Betty Friedan. The caucus worked to put more women in office via elections. It was established about one year after the Women's Strike for Equality March, in which 50,000 protested in the streets of New York City. Time writes that the march was credited with connecting a younger generation of feminists with Abzug and Friedan.
In 1976, Abzug ran for senate, losing by a margin of 1% to the more moderate Daniel Patrick Moynihan, who held the office for four terms. Supposedly, Abzug received very little media coverage despite her close win. Her comrade Shirley Chisholm, as her New York Times obituary recalls, became the first African-American elected to the United States Congress in 1968 and in 1972 she became the first major-party black candidate, as well as the first woman in the Democratic party to run for President of the United States.
Here she is speaking to a New York City theater audience at Ain't Supposed to Die A Natural Death about her candidacy, where she said, "I dare run for the presidency...that hour has come in America when we can't be passive recipients."
G/O Media may get a commission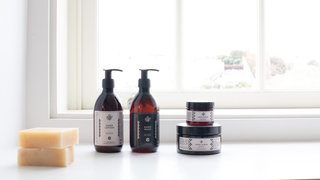 Exfoliate and Hydrate
The Handmade Soap Company
In honor of Women's Equality Day, the BBC shared a segment from their archive capturing the on-the-street drudgery of pushing the Women's Liberation movement, including handing out flyers, making signs and facing the derision of your opponents (including other women):
Here is a short speech from Abzug about the power of working class women and how practical action and political representation is at the heart of her concept of liberation. For Abzug, Chisholm, and other leaders of the era, intellectual abstraction was well and good, but nothing tops your right to vote: