Think fly fishing is a man's world? Well, you're dead wrong. Dead wrong! Because women are now the fastest growing demographic in fly fishing.

The New York Times reports that women make up 31 percent of the 6.5 million Americans who fly-fish. Now, the sport is growing to accommodate women who might not have the gear or skills to protect themselves when it comes to fly-fishing.

There's a magazine dedicated to women and fly-fishing, DUN, started in 2013. The equipment company Orvis will also be creating an initiative full of classes and mentoring opportunities for women. And there are small developments like creating drop-seat waders for women who can go to the bathroom without getting totally undressed, or trying to make gear shops less intimidating. "When you walk into your fly shop, you have some grizzled-haired kid behind the counter drinking a PBR," Patagonia fishing director Bart Bonime said. "It's not a welcoming environment."
While I've never fly-fished, I can see the appeal from the article, as it actually sounds sort of relaxing? "Many women I teach to fish are in it less for the fishing itself, and more for the excuse to be outside," instructor Jess McGlothlin told the newspaper. "Many liken it to yoga; a quiet, meditative getaway from daily stressors."

And I loved this anecdote from a female guide who explains why women teaching fly-fishing can be so rewarding:
[Camille] Egdorf gave as an example a guided fishing trip with a veteran angler husband and his wife, a novice. She gave tips on ways to fish the river and to slow down the back cast. The husband ignored Egdorf, but the wife listened and had a more productive day, catching five fish for every one he caught.

"He had a pretty rough day because he didn't listen," she said. "It happens all the time: The wife outfishes the husband, and it drives the husband nuts."
G/O Media may get a commission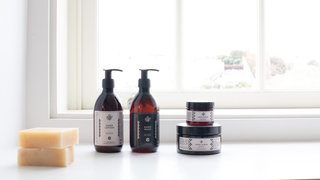 Exfoliate and Hydrate
The Handmade Soap Company
Sign me up!