''Bringing food into a situation where people are desperate is always chaotic,'' says Chris Weber of World Vision, one of the organizations tasked with distributing the wave of donated supplies. Is handing aid over to women the answer?
Distribution of food, in the center of this crisis, can quickly devolve into a Darwinian battle at many aid sites. The New York Times reports:
Under a new targeted approach to aid, Menelas and thousands of other women across Haiti's capital no longer have to battle with men at food handouts that in recent days have been chaotic and dangerous scrums.

''Every time they give out food there's too much trouble,'' said Menelas, collapsing into a small wooden chair as two grandchildren quickly scrambled into her lap. ''Today, we finally got something.''

U.N. officials say they are still far short of reaching all of the quake victims estimated to need food.
The World Food Program organized the women-only distribution initiative, instituted at 16 centers around Port-au-Prince, but has drawn criticism due to the January 30th remarks of WFP spokesperson Marcus Prior:
"Traditionally, WFP has always sought to deliver food into the hands of women as they are more likely to ensure that the food is divided up amongst those who really need it and can't fend for themselves," said Prior in an email interview from the Haitian capital.
G/O Media may get a commission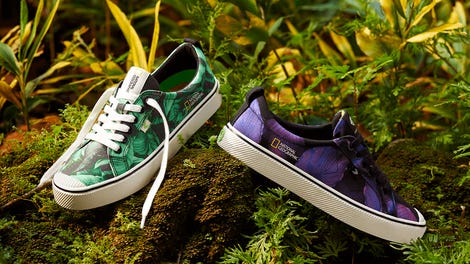 New New New
Cariuma + National Geographic
Some have criticized Prior's comments as sexist, pointing out that the assumption that women are more likely to be nurturing in times of crisis is a gender based stereotype. (It also bears repeating that women tend to be the primary caretakers of children.) But an article in the new New Yorker artfully illuminates the tension at play between the idea of women, caretaking, and disaster opportunists. Focusing on the story of Nadia François, reporter Jon Lee Anderson paints a vivid picture of life in post-quake Haiti.
When Anderson first encounters François, she and a few friends are wandering from encampment to encampment in search of food for their neighborhood, known as Delmas 75. Armed with a note from the local priest, François is determined to return to Delmas 75 with supplies - even if they she has visit multiple sites before she and her peers can receive any food.
Early on, Anderson offer this interesting detail about François: she was raised in the US, speaks English, and refers vaguely to "immigration difficulties" as the reason why she returned to Haiti. Eventually, François reveals the full story: she migrated to the United States on a boat with her mother and her siblings. While François dreamed of being a model or a marine, life was harsh. Her father was drug-addicted, criminal-minded, and abusive. Her mother eventually returned to Haiti to care for an ill relative (François attributes the misfortune to a curse) - she contracted the disease and died before François completed high school. She started community college in the US, but then her life took a drastic turn for the worse:
In 1992, she was arrested and spent five and a half years in prison. The charges were for forging a Treasury check and for armed robbery. She told me at first that she had been arrested in a car that had a gun in it which didn't belong to her. Then she looked at me and said, "I fell in with the wrong people." After prison, she was deported. In 1999, she returned to the U.S., hoping to see her daughter, who she said was being abused in foster care. She was picked up by police for entering the country illegally, and spent seven years and one month in the federal correctional institution at Tallahassee. In June, 2007, together with other detainees, she was sent by special plane back to Port-au-Prince. They were greeted by Haitian policemen, whose faces were hidden by masks, and placed in detention. "I was afraid, because I didn't know what to expect," she said with a shudder. "I don't know why they had to wear masks." After a couple of weeks, a cousin came to fetch her. Not long after, she rented the small house in Fidel and had been there ever since, earning a little income by cutting women's hair.
As François' story unwinds, Anderson uses the narrative to illuminate various issues plaguing Haiti, most notably the destruction of infrastructure. The country has also instituted a sort of makeshift martial law, the result of the overtaxed public resources and increasingly dire situation:
I told [Max Beauvoir, Haiti's preëminent houngan, or vodou priest] about the bodies I had seen dumped at the cemetery, and he nodded. On January 16th, he said, he had been summoned by Haiti's President, René Préval, to an emergency cabinet meeting, along with the Prime Minister, the police chief, and the surviving heads of the Catholic and Protestant churches. At the meeting, the leaders had discussed the unravelling security situation in Port-au-Prince. "We decided we had to deal with them in an emergency way," he said. "Beginning on the seventeenth and for the next two weeks," criminals were to be treated "as in an emergency." I asked him if this meant capital punishment, and he said it did: "Capital punishment, automatically, for all bandits." Some of the looters were taking what they desperately needed, and from places where it wouldn't be missed. And some of them must have been supplying those too sick or badly injured to fend for themselves; Nadia couldn't have been the only one tending to a community. Others, of course, were stealing out of greed and opportunism. But this seemed an impossible distinction to make, especially for a beleaguered and diminished police force.
Anderson makes a conscious effort to go beyond the simplistic narratives being spun about the aftermath of the quake. There are thieves left to die in the streets by otherwise decent people and heroic acts by criminals; even François, our protagonist guide through the story, does not come off as likeable. She is often contemptuous of other Haitians and comes off as confident but brusque. After watching her argue bitterly with another woman who received supplies intended for François, Anderson asks about how she came to be the main provider for Delmas 75.
When I asked Nadia how the people of Fidel had come to regard her as a leader, she said that it was because she spoke English. Then, harshly, she added, "And because I'm the one searching for help while they're sitting on their sorry behinds."

Fidel was not especially hard-hit by the earthquake; other than Nadia's neighbor and a couple of women farther down the gulch whose house crumbled and injured their legs, it experienced none of the ravages that destroyed so much of the city. But, in the absence of a viable economy and national infrastructure, it was still a hopeless place, a symbol of Haiti's deep and persistent problems. Many of the men in the neighborhood seemed to sit around most of the day. Some played dominoes to pass the time. There was no work for them, and would not be until the aid money for reconstruction created jobs. Lionel Verner hasn't had construction work for a long time, he said; he sells cell-phone scratch cards to make a living.
Ultimately, François' resourcefulness helps her locate a relief organization that can provide ample supplies of water and food to her neighborhood. But even as her story ends on a high note, it illuminates many of the standing issues with the narratives that emerge in the media after a crisis. She is not a saint, nor a savior, but rather a woman trying to get through each day. And I imagine many of the survivors of the quake would describe themselves the same way.
Chaos Eases as Haiti Food Lines Focus on Women [NY Times]
U.N. Delivers Relief Directly to Haitian Women [Women's E-News]
Neighbors' Keeper [New Yorker]