Jennie Linn McCormack, who was jailed for terminating her pregnancy with abortion pills she bought online, won a victory last week in her lawsuit challenging Idaho's abortion laws. A judge put a temporary ban on the enforcement of a 1972 law against self-induced abortion. However, her attept to block the measure that outlaws abortions after 20 weeks of pregnancy, the first challenge to the so-called "fetal pain" laws enacted in six states, wasn't successful.
McCormack was charged with feticide in June after it was discovered that she aborted at five or six months. She says she didn't have the resources to get to one of the state's few abortion clinics, and she believed the pills she ordered online were from a legitimate medical provider. The case was dismissed for lack of evidence, but prosecutors have the option to refile the charges, which is why McCormack wanted to have the laws declared unconstitutional.
According to Reuters, McCormack was seeking a temporary restraining order against the state's new fetal pain law, but the judge denied her request because she performed the abortion before the law went into effect and is no longer pregnant, thus she can't demonstrate imminent harm. (Her case may not meet the legal criteria for imminent harm, but fetal pain laws, which are based on junk science, certainly harm women.)
G/O Media may get a commission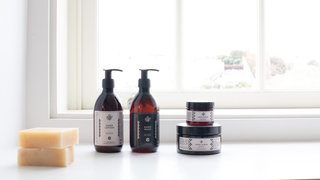 Exfoliate and Hydrate
The Handmade Soap Company
The judge said she does have standing to seek a court order against the 1972 law that makes ending your own pregnancy a felony because she could still be charged. For now the law won't be enforced in the state, and the judge said she's likely to succeed in having the measure declared unconstitutional.
The law was rarely, or possibly never used, before McCormack's arrest. The prosecutor who brought the case against her said he doesn't know of it ever being applied in his 27-year career, and it's possible it was never used in the state. The temporary ban is still encouraging, as laws that punish women for self-induced abortion open up the possibility that those who miscarry could be reported to authorities (perhaps by horrible moralizing aquaintances, like the woman who turned McCormack in) and investigated for feticide. McCormack's lawyer still wants to take on the ban on abortions after 20 weeks, and says he'll try to prove at a future hearing that she does have standing to challenge the fetal pain law.
Woman Wins Court Order Against 1972 Idaho Abortion Law [Reuters]
Police Find Fetus In Box [LocalNews8]
Earlier: Woman Files First Lawsuit Challenging 'Fetal Pain' Laws
Another Study Suggests 'Fetal Pain' Laws Are Totally Bogus
Image via Natalia Bratslavsky/Shutterstock.