A Washington woman who forced teenage girls to have sex with paying clients she found on the internet has been given some superjustice and sentenced to one year of jail time. If you think that punishment is too harsh for a woman who benefitted financially from forcing kids to have sex, don't fret; she can serve 300 of the days on work release. This isn't a slap on the wrist, it's a kiss on the hand followed by a slightly too rough shoulder massage.
Melissa Marie Salsbury recruited the 17 and 18-year-old girls she'd go on to exploit through a series of ads wherein she promised she'd help them get jobs as dancers. When the young women responded, she and her husband, Stanley Lynn Salsbury, Jr. would rent hotel rooms in Kennewick, Washington and force the girls to have sex with clients for money. The Salsburys kept the girls working as prostitutes by threatening them with violence and telling the girls that unless they continued to do their bidding, they'd tell the girls' boyfriends or their parents. Salsbury found a steady stream of clients who knew the girls were underage by posting ads on backpage.com. For several months, their operation hummed along.
Authorities discovered their coerced teen sex-for-profit ring when one of the girls, who was 17 at the time, confessed what was going on to her high school guidance counselor.
Salsbury eventually pled guilty to promoting commercial sexual abuse of a minor, a felony that normally carries a penalty of about 7 to 10 years in prison. Her sentence? A whopping year behind bars.
So why the flaccid 1 year jail sentence for a woman who operated a business that was a breath away from teen sex slavery? Lawyers involved with the case provided several unconvincing reasons. First, Salsbury cooperated with authorities, turning over all requested evidence and the names of several johns and her husband, who aided her in her whoremaking. She also pled guilty, like a good, compliant criminal (except she didn't, really, plead guilty the whole time). Second, she had a baby back in October, which means that she'll miss a year of her son's development, which, according to court documents, "is itself a form of punishment." Third, and, according to court documents "more troubling" than Salsbury's actual crimes is the fact that Salsbury had been recruited into sex work as a teenager, and didn't understand the harm she was doing to the victims, and thus her ability to appreciate the wrongness of her conduct was "impaired."
G/O Media may get a commission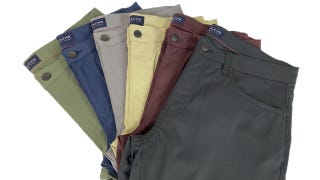 JACHS NY Fall Stretch Tech Pants
Yes, let's release a woman with an infant who doesn't understand the harmfulness of teenage sex slavery back into society sans reparative therapy. This sounds like an excellent idea.
If you're hoping that the other parties involved in the case were given punishments that fit their crimes, you're going to be disappointed. Salsbury's husband, who booked the hotel rooms and often accompanied his wife to meet clients, was given 10 days in jail, and if he behaves himself for a year, he can go back to court to get the conviction vacated. The johns who knew the girls' ages haven't yet been sentenced, but if the woeful underpunishment trend continues, they'll probably be forced to eat entire bags of coconut M&Ms and then watch an episode of Yo Gabba Gabba while being frowned at by an offended cat.
Woman who forced girls into sex sentenced to one year in jail [Tri-City Herald]
Image via val lawless/Shutterstock