A woman who says she was sexually abused by a prison guard in Oregon has been jailed until his trial takes place in October, The Oregonian reports. The state says that because of her history of criminal convictions and drug use they're concerned she won't show up for trial, and have placed what's called a "material witness hold" on her to keep her in custody. Oregon state law has no time limits on how long material witnesses can be kept in jail.

The Oregonian reports on the case of the anonymous woman, who accused Brian Balzer, a former corrections officer at Coffee Creek Correctional Facility of sexually abusing her while she spent two years in the prison's mental health unit.
Balzer is charged with sexual misconduct and supplying contraband (for allegedly giving the woman perfume samples). He was a guard at Coffee Creek between 2011 and 2014 before resigning; she served several sentences there since 1996 for drugs, burglary and identity theft. The two began having sexual contact inside the prison, she later told investigators—kissing, oral sex, and masturbation— and continued communicating via email and Facebook after she was released to a halfway house.
Sex between inmates and prison staff is never consensual, per both state and federal law. Balzer was indicted on felony charges in November, after the woman testified at a grand jury against him. At a hearing this week, she told the judge that the sexual contact was coerced. From the Oregonian:
"He manipulated and took advantage of me and I felt obligated. Degraded," she told the judge. "I want to see him be held accountable for what he did to me and some other people. That's what I want."
G/O Media may get a commission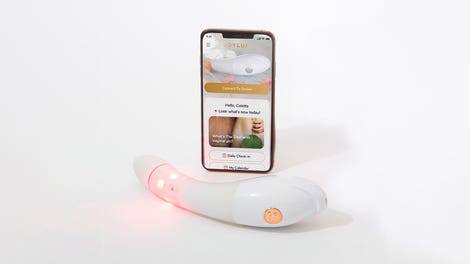 $50 Off
Joylux vFit Gold Device
Coffee Creek has a disturbing history of sexual abuse by corrections officers against inmates. The prison opened in 2002 and has reached settlements with at least 17 women for abuse they suffered during their time there. In the most recent case in 2015, two women accused the prison's doctor of sexual abuse, saying in a lawsuit that he'd conducted "highly unusual" gynecological exams, done for his own sexual gratification. But a state investigator said he believed the claims were untrue, saying both women's testimony seemed rehearsed and identical and that they made the claims after discussing a class-action suit in phone calls. The suit is ongoing.
Balzer posted bail almost immediately after he was arrested and remains free. The woman started violating her parole some time after his arrest, and Washington County Deputy District Attorney Dan Hesson issued a warrant for her, the newspaper reports, saying he couldn't find her.
But the woman denied that, saying she wasn't "hiding" from authorities and hadn't gotten notice when the trial was slated for July. She said, though, that she was struggling to stay sober:
In her testimony Wednesday, the woman said that after the grand jury hearing she "fell apart." For a time, she said, she started using drugs. Later, she was trying to avoid old friends and family, in hopes of staying clean. She said she wasn't hiding and that she hadn't received a subpoena for the July trial.

She said she wanted to participate in the investigation.

The prosecutor pushed back. He told her she never tried to contact authorities. He told the judge that he didn't want her jailed, but didn't see another option.

Rawls, the woman's attorney, said if released, her client would check in daily with her parole officer in Lane County. She'd also agree to electronic home detention.

But Bailey, who noted the woman's drug problem, wasn't convinced and ordered that she remain in custody.
The woman has been in custody since August 16. Her attorney is asking the court to order her to provide a video deposition so she can be released.