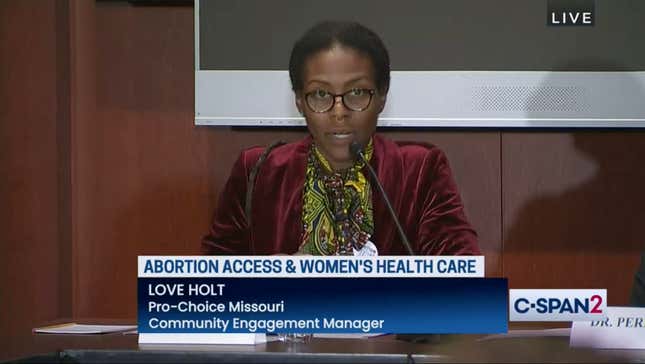 Reverend Dr. Love Holt, an organizer with Abortion Action Missouri and an abortion doula, told Congress on Monday that she nearly died in January due to a delay in getting medical help during a medication abortion. Holt, speaking during a roundtable discussion with Democrats on the House Oversight and Accountability Committee, said that since abortion is currently banned in Missouri, and providing abortion care is a felony offense, she was forced to weigh whether or not seeking medical attention would put her in prison.
Self Managed Abortions Explained
Speaking to Jezebel on Tuesday, Holt emphasized the safety and importance of having medication abortion as an option. "It was the delay, the risk of jeopardizing every party involved to get health services," she said, that put her life in danger.

A mother of five, Holt recounted being "so desperate, so backed into a corner" when she discovered her pregnancy, HuffPost's Alanna Vagianos first reported. The earliest she could make an appointment to have a medication abortion at the nearest clinic where it was legal (outside of Missouri) would be in four weeks—but Holt was already eight weeks pregnant. "I knew waiting that long would make this a surgical procedure that required more resources that I just did not have as a working single mother," she said. Instead, she "found options to have the pills mailed."

But the first set of pills Holt ordered was stolen, and the new pills didn't come until days later; it took a total of 18 days for Holt to receive what she'd ordered. By that point, she was past 13 weeks pregnant; abortion pills, she pointed out, are "most effective before 13 weeks," but she decided to take the pills anyway. Within minutes, she said, she began intensely bleeding, cramping, and becoming lightheaded, eventually going to her car so she wouldn't "traumatize my children from the sight of seeing me constantly spilling blood."
"After about an hour of not returning, they [Holt's kids] called my mom and she found me in my car, unresponsive and completely covered in blood," Holt said. She was then "rushed off to the ER for severe blood loss," and "nodded in and out of consciousness for several minutes." Holt was taken to the ER of a Catholic hospital and said that "instead of thinking about survival, I thought about not going to jail."

(Even though Missouri's abortion ban doesn't directly threaten people who have abortions with criminal charges, pregnancy-related criminal charges—including for self-managed abortion—aren't uncommon, and are doled out almost entirely at the discretion of local law enforcement.)
"I told myself, 'Make sure you tell staff that you're having a miscarriage,' but I knew I was having an abortion," Holt said. She noted that because she'd taken the abortion pills orally instead of inserting them into her vagina, no traces of the pill could be detected within her body and her medication abortion would be indistinguishable from a miscarriage.
Medication abortion is highly safe, and very rarely results in complications. But, as with any medication, if complications arise, people should feel safe immediately seeking medical help. Holt told Jezebel her experience was "a glimpse at the future for hundreds of thousands of people" who will be forced to fear the legal ramifications of getting help to end a pregnancy.
As a result of Holt's delay in getting medical care when she was bleeding out, she told the House Oversight Committee she nearly died—all because she feared being charged with a crime. "I almost lost my life that day. I would have left my children, my Black children, alone in this cruel, cold world to navigate it alone," Holt said. As other speakers at the hearing noted, Black communities face the highest rates of birth and pregnancy-related mortality.
"Forcing people to carry unwanted pregnancies drives people into further positions of poverty," she continued. "Poverty gives birth to violence and survival modes that make people unpredictable. They do things that they would normally not do."