I never quite understood the appeal of SoulCycle because my strong preference is to work out in a quiet, well-lit environment where no one is allowed to judge me. Also, while I know it's a relatively harmless stationary bike cult, it always sounded to me like a place you go to have your soul ripped out of your body for cleaning. But the story I'm about to tell you is my biggest SoulCylce deterrent to date.

In January of 2016, Donna Wood says she attended a SoulCycle class while vacationing with her husband in Beverly Hills. She claims that during this class she impaled her leg while dismounting a bike; the blaring workout music drowned out her screams.
A lawsuit Wood filed with the Manhattan Supreme Court on Thursday (SoulCycle is based in New York), claims that her right leg was skewered by a sharp support beam: "She was left dangling by her right leg, which she could not dislodge. Though she screamed for assistance, because the class was in cool down mode and music was still playing loudly and the room still dark, she was not heard or seen for several minutes." A copy of the lawsuit was obtained by the New York Daily News.
Apparently, a classmate was able to dislodge the beam from her leg, adrenaline must have been running high. I mean, can you imagine pulling a stationary bike part from a stranger's bloodied leg while a Madonna club remix pulsates in the background? Most days I can't even imagine leaving my house to go to the gym, full stop.
G/O Media may get a commission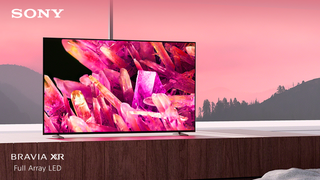 $400 off
Sony 55 Inch 4K Ultra HD TV X90K Series
According to the Post, no one called an ambulance, and Wood caught an Uber to the hospital where she received more than 50 surgical staples. Now Wood is suing for unspecified damages
This is not the first time that SoulCycle has been entangled in legal drama. In May, a woman filed a lawsuit against her SoulCycle instructor alleging gross negligence. The woman indicated in her complaint, filed in L.A. County Superior Court, that a lack of instruction coupled with the bike design, loud music, and mood darkness, caused her ongoing mental and physical suffering.
May the restless, litigious souls of the physically fit find peace, if not compensation.

[via The New York Post / New York Daily News]