Last month, a billboard went up in Alamogordo, New Mexico. Carrying the endorsement of New Mexico Right To Life, it announced that a woman had decided to "kill our child." Now the woman, Nani Lawrence, who apparently had a miscarriage, has successfully sued to have the billboard taken down and be granted an order of protection.
Lawrence's lawyer argued, successfully, that her privacy had been violated, and the billboard is expected to be removed within a week or so. A lawyer for Greg Fultz, who paid for the billboard but eventually lost the Right To Life endorsement, says this violates his free speech rights.
He also said, "My argument is what Fultz said is the truth. That fetus' life was taken away somehow. The distinction to me on First Amendment stuff is a person can't accuse someone of a felony, which (Fultz) didn't. He didn't allege it at all. What's the difference between someone holding a picket sign in front of an abortion clinic stating that so and so kills babies? It happens across the nation everyday."
Well, not exactly — saying a "child" was "killed" is in fact an accusation of murder, without further details divulged. Abortion is still legal in this country; so is involuntary miscarriage, which is what various Internet postings indicate Lawrence had, though the status of her uterus is still her business.
What's interesting here is the alignment of "pro-life" interests with the interpersonal harassment of Greg Fultz's much-younger ex-girlfriend. (He is 35, fifteen years older than Lawrence.) "We thought it was going to be a pro-life billboard," a Right To Life official told the Alamogordo News. Fultz said he'd given them "full disclosure of the billboard and the back story of it," he said. "I left out no details or gave any false facts about the billboard." He accused them, plausibly, of shying away from controversy.
G/O Media may get a commission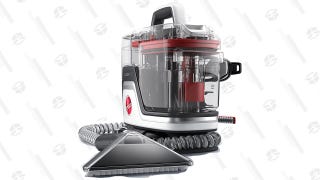 Save $10
Hoover CleanSlate Plus Carpet & Upholstery Cleaner
Fultz's anger at his ex-girlfriend hasn't just taken the form of anti-choice demagoguery; it's also latched onto "men's rights" rhetoric. He told The News,
It's my belief that fathers should have a say regarding pregnancy. Women have all the power when it comes to pregnancy. The men get no say when a woman wants to go and have an abortion without the say of the father. I believe that is wrong because men are 50 percent of the result of the pregnancy. They should have an equal right to their unborn child and decisions regarding it."
The same sentiment was expressed in a letter Fultz says he wrote to the New Mexico legislature, which said in part,
I'm 35 years old and have always wanted to have a family i.e. a child and for whatever reason I've never been able to achieve that dream up until last year when my then girlfriend got pregnant. I had finally conceived a child and i was more thrilled then the girlfriend. it was fine for a short time but then things went wrong we had separated and the dream was short lived the pregnancy was terminated I'm not sure how it was terminated weather it be a natural miscarriage or intentional termination. that remains unclear as she refuses to speak on the matter and from her actions and behavior leading up to the point i believe that she intentionally terminated the pregnancy either by abortion or other means. Which brings me to my request; I'd like to get a bill created in honor of my baby (Baby Fultz) for all fathers. My idea is to get a bill introduced that gives biological fathers equal rights as to the welfare and decisions being made of the unborn child with exceptions to those of rape and incest and other means of illegal fatherhood.
There's also indication that Fultz engaged in reproductive coercion in the first place. A poster in Lawrence's name wrote in a BabyCenter post about a year ago,
Me and my bf are expecting, and we're excied but it took me coaxing. At first, I was concerned about how I would be able to take care of my child. Let me explain....when I was 7, I went into a coma, and it left me with many 'issues'. I lose my balance easily, I am paralyzed on the left side of the face, and it is hard to understanernd me sometimes. But the most concerning thing of all, I have severe tremors. I will have surgery to try to correct this when I'm 21, but by the time I give birth I'll only be 20. Not to mention the fact that I have been hurt so many times due to my weight that the idea of extra is unbearable. My bf is 15 years older than me and has been told he could never have children. So, of course he always wanted to keep it. It was so unplanned and I'm so unprepared(and I'm against abortion unless you've been raped) that the first thing I thought was 'I'll give it up for adoption.' But his want for a kid compelled him to talk me into it. But after talking to my parents, I've gone back to my initial concerns. If you knew me, you'd know it kills me to do anything that might PO or hurt someone's feelings. How do I bring it up?
It's only fitting that a man who wanted to control one woman's reproductive choices and bodily integrity would align with an entire movement — two, even — devoted to taking them away from all women. He may be an erratic example, but he's not a philosophically inconsistent one.
Update: To wit, here's a Family Research Council rep on the story: "[A] man from New Mexico was recently silenced when he wanted to preserve and protect the life of his developing baby. His girlfriend had the abortion despite his convictions. He was so distressed and angered by his lack of choice in the matter that he commissioned a billboard on a major highway to communicate his experience."
Billboard Goes To Court [Alamogordo News]
Related: Sign Causes Stir [Alamogordo News]