We all have a friend who uploads an excessive amount of baby photos to Facebook, and one woman in Wales found a use for them. Unfortunately, it was incredibly dishonest and cruel. Victoria Jones took baby photos from her friend's Facebook page, uploaded them to her own page, and concocted an elaborate story for her ex-boyfriend about their fake child. Somehow, none of this is illegal, but now the question is whether or not Jones should lose her job for what she did.
According to the Telegraph, Jones came up with the plan when a former friend from school started posting photos of her daughter on Facebook. Jones wanted to punish her ex-boyfriend Daniel Barberini, for ending their 16-month relationship so she posted 82 photos to her Facebook page and told him the girl was his. She also concocted an outlandish backstory, telling him that she'd travelled to New York and given birth to twins, Keira and Harrison. She said Harrison had Down's syndrome and died shortly after he was born, but she and Keira had returned to Britain, then moved to Australia. In reality, she was working at a nursury school in Newport, Wales the entire time and had no children.
For 18 months Barberini believed the child was his, but he uncovered the hoax when he showed a friend photos of his "daughter." The friend also knew the girl's mother, and after contacting her they went to the police. Authorities investigated but found there's no law against lying to your ex using pilfered photos.
Now Jones is undergoing a disciplinary hearing that will determine whether or not she can keep her job at Ringland Primary School. Jones admits she lied and misused the photos, but says that has absolutely nothing to do with her job. Disciplinary committee member Hayden Llewellyn says that her private life does have bearing on her job, telling Jones, "you compromised your position of trust within the school ... These facts constitute unacceptable professional conduct, meaning conduct which falls short of a registered teacher."
None of Jones' shady behavior involved a student, and some parents say they see the incident as just a "silly mistake." However, other parents are threatening to pull their children from the school. Head teacher Lisa Bowden said one student teacher left because she didn't want to be associated with the school and parents, "said they had totally lost trust in that member of staff and in the school."
G/O Media may get a commission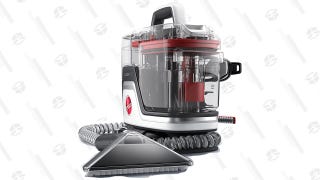 Save $10
Hoover CleanSlate Plus Carpet & Upholstery Cleaner
It's unclear if there's anything in her contract about what kind of conduct is expected of her outside of school, but does what she did make her incapable of teaching children? On the one hand, she didn't really harm anyone but her ex. However, it's also understandable that parents don't want to leave their children in the care of someone who's deceitful and has horrible judgment.
Teacher "Stole Photos From Facebook To Fool Boyfriend [Telegraph]