Proving once and for all that no one in the modern age is safe from a sex tape scandal, the Cambodian community of Lowell, Massachusetts is currently in an uproar following the distribution of a sex tape that depicts a laywoman having a "sexual encounter" with the Venerable Nhem Kimteng, a Buddhist monk. Maya Men, the woman in question, has just filed a lawsuit with the Middlesex Superior Court against five men whom she alleges illegally circulated the video, which they filmed without her knowledge or consent.
The case at hand is fairly complicated and controversial: since having sex can result in a monk being automatically expelled from his order, this is far more scandalous than your average illicit tape of a prominent community member recorded in secret. Adding insult to injury, the encounter took place in a Buddhist temple. Furthermore, both parties depicted in the video were members of an executive committee responsible for overseeing the construction of a new $10 million temple in the city's Pawtucketville neighborhood, which wasn't exactly controversy-free to begin with — some community members have previously accused the committee of mishandling its finances and criticized its lack of transparency.
According to Rithy Uong, a prominent member of Lowell's Cambodian community, the repercussions are severe: "It is one of the worst things a Buddhist can do. We cannot believe it happened. It discredits the entire Cambodian and Buddhist community."
However, regardless of the degree of cultural offense, there is no excuse for invading someone's privacy and humiliating them in front of their peers in an attempt to professionally discredit them. Even if Men and Kimteng's private behavior has rendered them unfit to serve on the temple's executive board, there's no reason that their entire community should need to be able to watch a deeply invasive tape recorded without their permission. Accordingly, Men is requesting that the court grant her punitive damages as well as money for an investigation to locate and confiscate all of the existing copies of the tape.
And, of course, the accusations have taken on a feverishly sexist pitch. In an unsigned email distributed amongst the board members, Men was accused of "using her sex life to take control of all top-level monks." Protesters stood outside of the temple's New Years celebration this weekend bearing signs that called her "deceitful." According to Men's attorney, since the tape has been disseminated, Men has "suffered previously in body and mind, and has been held up to her relevant community as an individual who should be shunned and scorned, called a thief, and referred to by a plethora of pejorative terms."
G/O Media may get a commission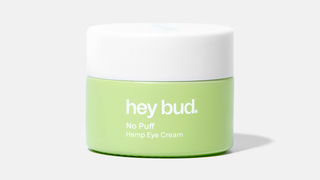 15% off
Hey Bud - No Puff Hemp Eye Cream
Ah, the universal language that is slut-shaming.


"Woman in sex video with Lowell monk sues" [The Lowell Sun]
Image via Getty.