It seems there's another hoax involving a young woman in Syria, but we're pretty sure this one isn't going to turn out to be a male blogger from Edinburgh.
Last month it was reported that 18-year-old Zainab Alhusni was killed by Syrian security forces after disappearing in July while shopping for groceries, according to CNN. Sources said she was taken in an effort to make her brother, who led demonstrations against Syrian President Bashar al-Assad, surrender to authorities. Her family said that her mutilated body was returned to them, and Amnesty International and Human Rights Watch confirmed that they held a funeral and buried the body. Her death sparked outrage around the world and the "the flower of Syria" became a symbol of the uprising. Then on Tuesday night, she appeared alive and well on state televison.
Alhusni flashed an identification card and said:
"I saw on TV that security forces detained me and burned my body ... and that they cut it up and handed it to my parents ... I am now alive and not dead."
G/O Media may get a commission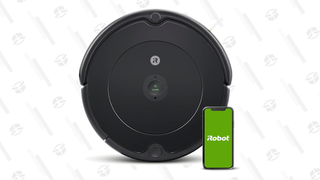 35% Off Black Friday Deal
iRobot Roomba 694 Robot Vacuum
She went on to explain that she just left home without telling anyone and has been staying with relatives. "I ran away because my brothers used to torture me and beat me. That is why I left," she said, adding, "I want to tell my mother to forgive me and be pleased with me."
Amnesty International says it confirmed her death with several sources, but due to the damage to the body, the Alhusni's mother must have misidentified it at the morgue. Mohammed was wounded in a demonstration after Zainab disappeared, and the family believes he was later tortured to death. When they went to retrieve his remains, doctors said there was another unclaimed body who'd been identified as their daughter. The corpse had no head or arms, and pieces of flesh had been burned.
Now it's clear that Zainab Alhusni is fine, but another anonymous woman was savagely murdered and human rights groups are demanding an investigation into her death. As the New York Times notes, the incident highlights how little is known about events inside Syria. Both the government and the pro-democracy protesters have made claims that later turned out to be untrue, and few foreign journalists have been allowed into the country. Though the "the flower of Syria" is no longer a symbol of crimes committed by government forces, her story still represents the confusion and brutality of the situation.
Woman Says She's Runaway, Wasn't Killed In Syrian Custody [CNN]
Woman Believed Killed By Syrian Forces Turns Up On TV [NYT]
Earlier: "Gay Girl in Damascus" Actually An American Dude In Edinburgh