A Muslim woman who was hit in the face by a drunken, hate-filled stranger for speaking Swahili with her nieces and cousins in an Applebee's last year managed to forgive her attacker, telling her in court, "I hope you choose love over hate." Asma Jama's lower lip was split in two during the assault by Jodie Burchard-Risch; she also sustained cuts to her nose and right eye, and still has scars.
Burchard-Risch, 43, pleaded guilty to third-degree felony assault on Tuesday as part of a plea bargain. She will serve six months in jail and five years probation for the attack, which happened last November while Jama, an American citizen born in Kenya, was out to dinner with her family. She told MPR News that Burchard-Risch and her husband overheard her speaking Swahili and demanded that she "go home" before attacking her:
Jama said the couple told them to "go home." They said that "when you're in America you should speak English."

Jama, an ethnic Somali, came to Minnesota in 2000 from Kenya. She speaks three languages: English, Swahili and Somali.

"I'm home," she told Burchard-Risch at the Applebee's. "I can speak English, but we choose to speak whatever language we want."
Authorities say that's when Burchard-Risch hit Jama in the face with the glass mug.

"They looked like just a normal couple that were having dinner and having fun and having drinks," Jama said.
Burchard-Risch wasn't charged with a hate crime since in Minnesota, the penalties for third-degree felony assault are, somehow, more stringent. When given the opportunity to address her in court, Jama patiently explained to her that violently attacking strangers is wrong.
"Jody, what you did to me that day wasn't good. You should never do anything like that to anybody," she began. "But I just wanted to tell you in front of everybody today that I do forgive you. My religion teaches me to forgive so that I can move on with my life. If I hold a grudge and I hold the hate you hold towards me against you, it's not going to serve me well. So in front of everybody here, I do forgive you, and I hope that you choose love over hate. I really do. Because it makes your life easier. Having hate just eats at you. It's not good."
G/O Media may get a commission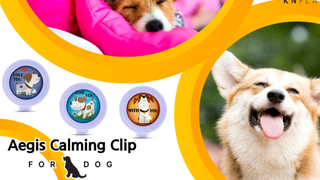 20% off
Aegis Calming Clip for Dogs
Jama added, "I know you've had just as long of a year as I've had. My intention for you is not bad. I don't have any ill feelings towards you. I just want you at the end of all this to understand that we're all the same. it doesn't matter what's on my head or the color of my skin."
According to CBS, her attorney said that the woman isn't a "lunatic" or a "racist," but someone with an "alcohol problem." Burchard-Risch, meanwhile, had nothing to say, either to Jama or to the court.
It shouldn't be incumbent upon Jama, the victim of a heinous crime, to forgive her attacker, but somehow that often seems to be the case. She's also become an advocate for stronger hate crime laws in Minnesota and testified in favor of them earlier this year.