In a disturbing variation on false rape cases, a British woman has been jailed for falsely retracting rape allegations against her husband that she then admitted were true.
According to the Guardian, the 28-year-old woman had reported her husband in November for raping her six times. But then, in February, she said she had lied about the rapes. She now says she was "emotionally blackmailed" into recanting by her husband and his sister — among other things, they told her that her husband would face years in prison for rape, but she would only go to jail for a few months before filing a false rape claim. The incredibly disturbing nature of this argument aside, it was also false — the woman learned she could get two years for filing a false claim. So she reversed her position again, this time asserting the rapes really happened — and was sentenced to eight months in jail for "falsely retracting" a rape allegation.
The judge argued that the woman had wasted money and time for the courts and police — but if her side of the story is true, the real culprits are the people who pressured her into going to jail for her rapist in the first place. Holly Dustin of the End Violence Against Women Coalition explains why punishing her for their blackmail could be dangerous:
Imprisoning a woman for a 'false retraction' of a rape allegation sends out a chilling message that the criminal justice system is still in the dark ages in relation to sexual violence and does not understand the pressure women come under from perpetrators during the legal process.
Adds Edina Lewis, who works with rape victims,
Many women are victims of domestic rape and, as well as being a terrifying time for them, it is often confusing. Instead of punishing women by throwing them in jail, victims should be given specialist support, counselling and assistance from agencies including the police.
G/O Media may get a commission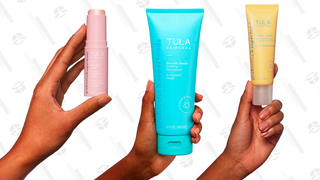 The fact that a woman was willing to take the fall for her rapist should be a wake-up call to the British justice system of the power abusers can sometimes have over their victims. Instead of taking the case as an opportunity to consider how to protect women from being intimidated by their rapists after they make an accusation, the court essentially trapped a woman between fear of an abuser and fear of jail time — and her story may well discourage other women from coming forward. The woman's legal team is appealing — let's hope the appeals court considers the message it's sending to rape victims before it delivers its verdict.
Rape Case Woman To Appeal Against Jailing For Withdrawing Allegations [Guardian]
Image via Kuzma/Shutterstock.com