In 2015, a Canada woman identified by the pseudonym Angela Cardinal was held for five days in jail to ensure she'd testify in her own sexual assault case. A judge decided that she was a flight risk, though her actions and history did not back up that assessment.
CBC News reports that Cardinal was a Cree woman who was living on the streets at the time of her attack. On a cold day in 2014, she snuck into a building to sleep, and woke to a man named Lance Blanchard holding a knife to her neck. He dragged her into an apartment and sexually assaulted her. When she attempted to escape, he stabbed her hand so she couldn't turn the doorknob. Cardinal eventually got help when she managed to dial the police, put her phone on speaker, and then throw it across the room before Blanchard could reach it while screaming for help.
A year later, during her first day of testimony against Blanchard, Cardinal had "trouble focusing and answering questions," according to The Star. The prosecutor requested that she spend the weekend in custody to ensure she would return the following Monday, and the hearing judge, Raymond Bodnarek, agreed. Judge Eric Macklin, who was eventually responsible for finding Blanchard guilty, later wrote about the situation while issuing an apology:
"She was clearly distraught and, using her word, 'panicking.' She was somewhat belligerent," Justice Eric Macklin wrote. "Concerns were expressed as to her behaviour and whether she would voluntarily reattend on the following Monday to continue her testimony."
Cardinal had never gone missing nor failed to appear in court. Still, she was kept in shackles throughout her testimony. On at least two occasions, she and Blanchard were brought to court together in the same van. Cardinal protested her treatment, reportedly saying, "I'm the victim and look at me, I'm in shackles."
The Washington Post reports that after her first night in jail, she begged to be released, saying the food was terrible and there was feces in the shower. She swore she would show up and testify, but her request was denied.
G/O Media may get a commission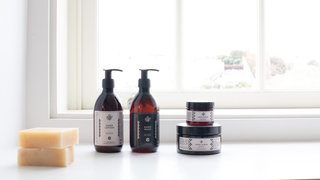 Exfoliate and Hydrate
The Handmade Soap Company
On Monday, Alberta Justice Minister Kathleen Ganley launched an investigation into Cardinal's case. Ganley says she has already formed a special committee that will review policies, using Cardinal's case as a reason to make "aggressive changes." Cardinal died seven months after testifying in an unrelated shooting. Ganley has apologized to her mother, and stated that she believes Cardinal's indigenous background may have influenced her treatment in court.
"It is difficult to comment on the motivations of the individuals acting within the system," Ganley said, during a news conference on the investigation on Monday.
"That being said," she continued, "I think one of the questions that keeps me up at night is whether this would have been the case if this woman was Caucasian and housed and not addicted, whether this would have happened to her."