People. When we've come to a point in time when good citizens are no longer free to bitch about unsatisfactory shopping experiences online, utilizing a multitude of caps locks words and lengthy rows of exclamation points, well, that's the time when you can just stop this crazy rock and let me off.
A woman in Utah is facing a $3,500 fine (!!!!) after doing what pretty much most of us do when we have something to say about a business—leaving an online review.
In 2009, Jen Palmer's husband bought her some Christmas gifts from KlearGear.com. When the merchandise still hadn't arrived a month later, PayPal closed the transaction and refunded her money.

Palmer tried to contact the company to inquire about the order, but couldn't get in touch with anyone. Frustrated, she wrote a critical review of the company on RipoffReport.com and moved on.
OK, so far sounds pretty normal! Except, oh wait. Holy shit.
Kleargear.com says Jen violated a non-disparagement clause. It turns out that, hidden within the terms of sale on Kleargear.com there is a clause that reads:

"In an effort to ensure fair and honest public feedback, and to prevent the publishing of libelous content in any form, your acceptance of this sales contract prohibits you from taking any action that negatively impacts kleargear.com, its reputation, products, services, management or employees."

The clause goes on to say if a consumer violates the contract they will have 72 hours to remove your post or face a $3500 fine. If that fine is not paid, the delinquency will be reported to the nation's credit bureaus.

"This is fraud," Jen said. "They're blackmailing us for telling the truth."
G/O Media may get a commission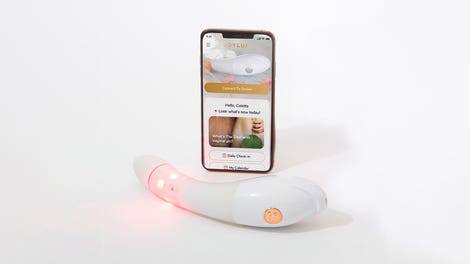 $50 Off
Joylux vFit Gold Device
Palmer also says she tried to ask RipOffReport to remove the bad review, but they won't do it unless she pays them $2,000! WTF. Seriously, no. WHAT IN THE ACTUAL FUCK.
Palmer doesn't have the money to hire a lawyer to pursue the case, so now she's working with Experian to get the ding on her credit report removed. Hopefully, they are not batshit insane, too and will help this poor woman clear up this whole nightmare.
Although this does get me thinking, maybe it's not such a good idea to post all those angry diatribes on Yelp about the local KFC when they run out of ranch dipping sauce.
Image via Shutterstock